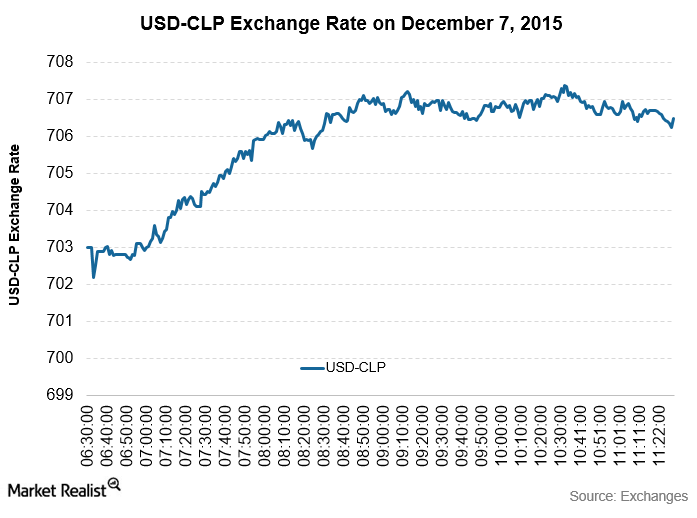 Chilean Peso Falls On Mixed Domestic Data
By David Meyer

Dec. 8 2015, Updated 9:36 a.m. ET
Chilean peso depreciates by close to 0.7%
The US dollar to Chilean peso currency pair, inversely related to the Chilean peso, was trading on a positive note on December 7, 2015. The currency pair went to a high of 707.52 before closing the day at 706.10. The fall in peso was partly attributed to the domestic data release. The rise in the currency pair was also down to the strengthening of the US dollar as the pair is directly related to it. Additionally, copper prices—highly correlated to the Chilean peso—fell by 1.5% on December 7. This also had a negative effect on the peso.
For more details on the correlation between copper prices and Chilean peso, see "The High Correlation between the Chilean Peso and Copper Prices."
Article continues below advertisement
Domestic data release on a mixed note
Chile's National Institute of Statistics published the inflation data for November on December 7, 2015. The month-over-month inflation rate and core inflation both came out flat at 0%, against previous the month's 0.5% and 0.4% respective rises. The Central Bank of Chile published trade balance data that showed a surplus of $401 million, as the exports rose slightly to $5,144 million while imports reported a dip to $4,744 million.   
Impact on the market
The iShares MSCI Chile Capped ETF (ECH) fell by 1.5% on December 7, 2015. The iShares Latin America 40 ETF (ILF) also followed a similar trajectory and ended on a lower note by 1.8%.
Chile-based ADRs (American depositary receipts) were performing on a negative note. Enersis (ENI) was trading on a flat note with a slight fall of 0.08% at the end of the day, while Empresa Nacional de Electricidad SA (EOC) fell by 0.65%. Finally, Banco de Chile (BCH) fell by 0.90% on December 7, 2015.