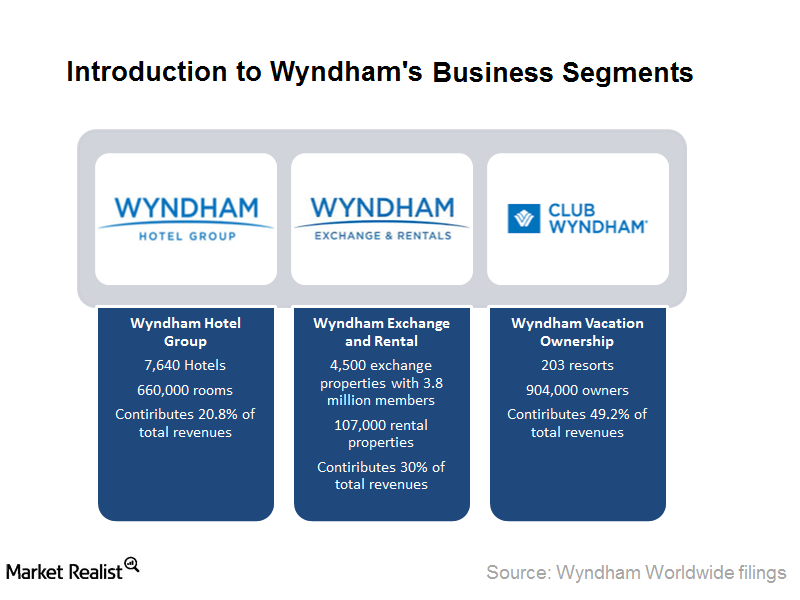 Big Hotels on the Block: Sizing up Wyndham Worldwide's Competitors
Introduction
Understanding the competition that Wyndham Worldwide (WYN) faces can be a little difficult as it operates in three different segments. Wyndham competes with Hilton Worldwide Holdings (HLT), Starwood Hotels & Resorts Worldwide (HOT), Marriott International (MAR), and Hyatt Hotels Corporation (H) in all its segments. But let's look at Wyndham's different business segments before discussing its peers in each segment.
Article continues below advertisement
Wyndham Hotel Group segment
Today, Wyndham Worldwide operates under three business segments. The Wyndham Hotel Group, the company's lodging franchising business, has grown to be the world's largest hotel company, with 7,640 hotels and 660,000 rooms worldwide as of December 31, 2014.
Starwood (HOT), Hyatt (H), Hilton (HLT), and Marriott (MAR) are some of Wyndham's biggest competitors in the lodging segment. Wyndham Hotel Group predominantly serves the economy and midscale segments. It caters mostly to leisure travelers and is less dependent on corporate customers.
Wyndham Exchange and Rental segment
The Wyndham Exchange and Rental segment is the world's largest vacation exchange network, with over 3.8 million members. All major peers of Wyndham have their own exchange and rental businesses. However, their exposure to exchange and rental business is limited. Wyndham also competes with vacation rental online marketplaces such as Airbnb and HomeAway (AWAY).
Article continues below advertisement
Wyndham Vacation Ownership segment
The Wyndham Vacation Ownership segment markets and sells timeshare units or vacation ownership interests (VOI). Wyndham has over 200 resorts and 904,000 timeshare unit owners as of December 31, 2014. By comparison, Hilton and Starwood have their own vacation ownership segments, HGV Club and Starwood Vacation Club, respectively. However, Marriott and Hyatt use master franchisee method, wherein a company lets other entities use their brand name and other trademarks, in return for a licensing fee and fixed annual fee, to run their timeshare business.
Wyndham Worldwide's stock price versus peers
Since 2010, Wyndham's stock has outperformed all its peers, growing by over 270%. In the same period, Marriot has grown by over 176%, Starwood by 102%, and Hyatt by 67%. Hilton started trading in December 2013 and has grown by 9% since then.
Investors can gain exposure to Wyndham and competitors by investing in the PowerShares DWA Momentum Portfolio (PDP), which has approximately 1.6% of its total portfolio in Wyndham Worldwide and a total of 8.1% of its portfolio invested in the hotel sector.
In the next few articles, we'll discuss the individual business segments of Wyndham Worldwide in detail. But let's begin with the Wyndham Hotel Group segment.