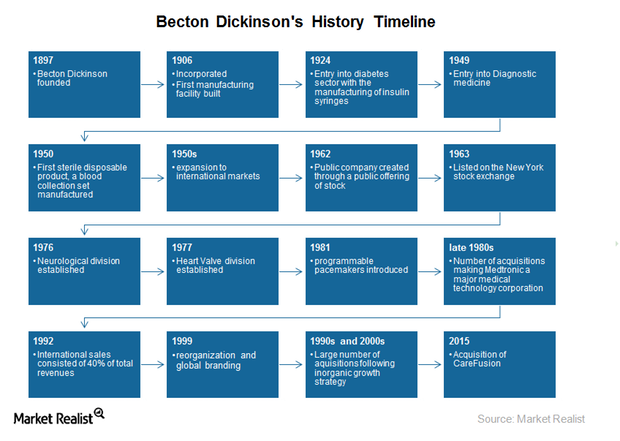 Becton, Dickinson and Company: A Leading Global Medical Device Company
Company overview
Becton, Dickinson and Company (BDX), or BD, headquartered in Franklin Lakes, New Jersey, is one of the leading global medical device companies. It operates across more than 50 countries and employs over 30,000 associates. It is one of the first companies to sell US-made glass syringes and is the leading manufacturer of hypodermic needles and syringes. BD's revenues grew at a CAGR (compound annual growth rate) of around 4.6%, from $5.4 billion in 2005 to $8.4 billion in 2014.
Article continues below advertisement
Article continues below advertisement
A brief history of BD
BD was founded in 1897 by two salesmen, Maxwell W. Becton and Fairleigh S. Dickinson. The company started as a medical device import company, selling medical thermometers and syringes imported from Europe. It gradually forayed into manufacturing medical devices and was incorporated in 1906. By 1964, products such as disposable syringes and needles accounted for 60% of the total sales of the company. This business model shift from reusable products to sterile disposable products required additional funds for the company. Therefore, in 1962, BD went public through an initial public offering and started trading on the NYSE (New York Stock Exchange) a year later. During the 1970s, the company adopted a number of standardized policies and procedures, implementing automation and integration strategies that led to sales of around $456 million and the gain of almost 100% of the insulin syringe market by 1975. The company went through a massive restructuring during the 1980s, disposing of unprofitable business and increasing foreign sales. In later years, BD participated in several global merger and acquisition deals, developed a number of new products, and emerged as one of the biggest medical technology companies in the United States. The company's acquisition of CareFusion, completed on March 17, 2015, marked another important milestone in the company's history and its entry into new markets such as medication management.
Major competitors
Abbott Laboratories (ABT), Medtronic (MDT), and Baxter (BAX) are BD's major competitors. The iShares US Medical Devices ETF (IHI) measures the performance of the US medical device industry. Investors seeking exposure to BD can invest in IHI, which has an allocation of approximately 5.8% to the company.