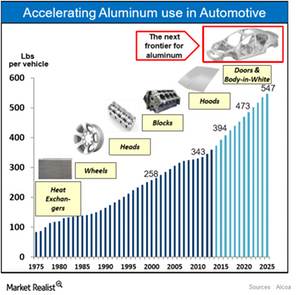 The Auto Industry's Aluminum Usage Is Increasing
Aluminum usage on the rise
The usage of aluminum in automobiles has been gradually increasing. Aluminum improves vehicle performance, reduces CO2 emissions, and boosts fuel economy. Aluminum is the second-most used material in automobiles, and it has the potential to become the most-used, as new aluminum alloys are made to deliver more value than steel.
Article continues below advertisement
Why are automobile makers increasing aluminum usage?
Producing lighter automobiles, improving fuel efficiency, and improving vehicle performance have been some of the automobile industry's top challenges. The industry has done its research on material alternatives to steel such as carbon fiber and aluminum alloys.
Aluminum alloys designed for automobiles weigh half as much as traditional mild steel and absorb twice as much energy during accidents. This makes automobiles stronger, lighter, safer, and more fuel efficient.
Change in Corporate Average Fuel Economy standards
In the United States, the Corporate Average Fuel Economy (or CAFE) standards are the regulations imposed by the U.S. Department of Transportation to improve the fuel economy of cars and light trucks produced.
According to new CAFE regulations, the average fuel economy of cars must increase from 27.5 mpg (miles per gallon), which is the same as it was in 1990, to 37.8 mpg in 2016. This is a 37% increase in fuel economy. In order to achieve this, automakers are increasing their usage of aluminum in manufacturing.
The graph above shows the rising usage of aluminum for several parts of car production. It also shows the weight increment of aluminum in pounds per vehicle.
This transition of the automobile industry has the potential to increase demand for aluminum from automobile industries in the near future. This could improve sales for aluminum producers such as Alcoa (AA), Aluminum Corporation of China (ACH), Rio Tinto (RIO), and Constellium (CSTM).
This could also improve the performance for ETFs such as the SPDR S&P Metals & Mining ETF (XME), which has been in a downtrend for most of 2015 due to the decrease in base metal demand.