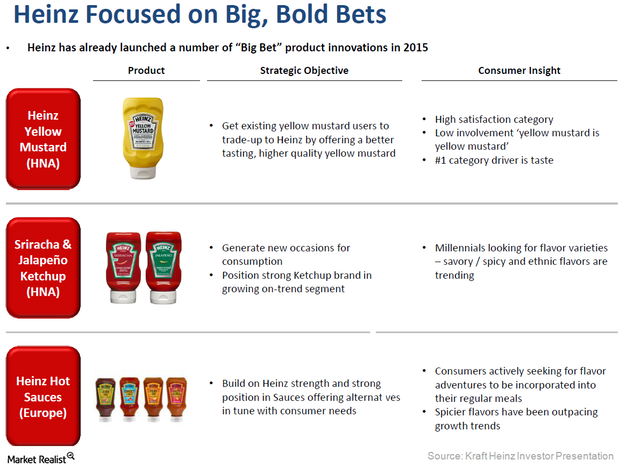 Analyzing Kraft Heinz's Great Brands Strategy
Growing great brands strategy
The Kraft Heinz Company (KHC) has been evaluating its portfolio on a broader basis in the following areas:
big bet innovations
more investment in working media
building aggressive sales team
The two iconic brand portfolios of Kraft and Heinz complement each other and expect to create synergies. The company expects to deliver aggressive cost savings of $1.5 billion by 2017. Kraft Heinz also plans to reinvest the savings of the fixed-cost back into the business. The company thus plans to increase its marketing and innovation investments in order to support revenues.
Article continues below advertisement
Heinz aims to have been the industry leading innovator in the consumer food space (XLP). Heinz has set the strategy under which North America and Europe will operate as innovation platforms, and remaining zones will implement the successful launches. Other zones will also have their custom categories focusing on local innovation needs. In its open innovation initiative, Kraft Heinz has been looking for novel sources of sustainable oils.
A game changer?
Heinz launched yellow mustard in early 2015. By the end of 3Q15, which ended on September 27, 2015, with the launch the company could achieve a high single-digit market share in a short span of four months. P3 portable snack innovation that was launched in 2014 also reported strong growth by the end of 3Q15.
Kraft Heinz's peer, Pinnacle Foods (PF) also bets on the "game-changing innovation" strategy to win the market. In its open innovation strategy, Unilever (UN) has been looking for new ways to analyze what consumers want.
Investment in working media
The Kraft Heinz Company is shifting its focus on advertising spending from non-working media to working media. Non-working media are the funds go towards costs related to production, talent, promotions, and fees paid to agencies. Working media is paid media that includes the funds paid to media partners in return for media impressions.
Heinz has taken initiatives to improve its revenue and profitability. It does deep analysis and optimization of promotion activities. The company's iconic brands help the company to use premium pricing for its products.
Kraft Heinz represents 0.39% of the portfolio holdings of the iShares Russell 1000 Growth ETF (IWF). Consumer staples companies make up 11.1% of IWF's portfolio.
Now let's take a look at Kraft Heinz's inventory management strategies.