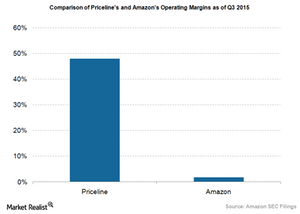 Why Did Amazon Shut Down Its Online Travel Business?
Amazon shut down Amazon Destinations in October this year
In the previous part of this series, we discussed how Amazon (AMZN) is looking to grow its investments in the right areas. One of the business that it entered earlier this year, the online travel business, failed to pick up. This resulted in Amazon shutting down the venture in October. It may not have been the right business for Amazon in the first place. In April, Amazon had launched its new travel and hotel service, called Amazon Destinations.
Article continues below advertisement
Article continues below advertisement
A possible explanation as to why Amazon entered this business was that online travel is a lucrative business compared to e-commerce. If we compare online travel market leader Priceline's (PCLN) operating margins with e-commerce leader Amazon, we find a big difference. Priceline generates 40%+ operating margins while Amazon's operating margins were around 1.6% in 3Q15. The chart below shows the difference.
Online travel market becoming highly competitive
Online travel is a highly competitive market, and this market is consolidating as well. In September, Expedia (EXPE) officially acquired Orbitz Worldwide for a consideration of $1.6 billion. Early this year, Expedia had acquired Travelocity, while it had also acquired German (EWG) meta searcher Trivago a couple of years ago. Even Priceline made big news last year when it agreed to acquire OpenTable for $2.6 billion.
Tripadvisor (TRIP) is another smaller but competitive player in this market. By acquiring smaller players, Priceline and Expedia have become even bigger players, leaving Amazon no chance to compete in this market. Amazon had no choice but to shut down Amazon Destinations.