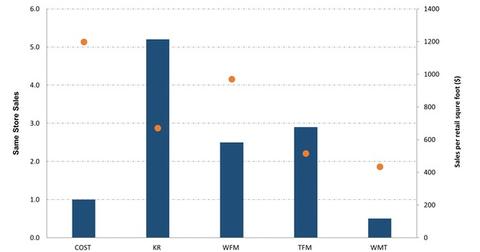 Why Whole Foods' Same-Store Sales Have Plummeted
By Sonya Bells

Nov. 20 2015, Updated 8:06 a.m. ET
Established store sales during 2010–2014
Whole Foods Market (WFM) delivered one of the best same-store sales figures in the retail industry in the period between fiscal 2010 and fiscal 2014, which for the company ended in September 2014. The average same-store sales stood at 7.1% during the period, compared to 3.7% for Kroger Company (KR), 4.5% for The Fresh Market (TFM), and 0.3% for Wal-Mart Stores (WMT). The company's pre-recession (2008–09) performance was even more impressive as it was putting up double digits or at least high-single digits in comparable store sales.
Article continues below advertisement
The current scenario in sales and efficiency
But Whole Foods has been struggling to maintain its performance during the past several fiscal quarters. Its same-store sales have seen a negative trend, declining from 7.2% in fiscal 1Q13 to 4.5% in fiscal 1Q14 and -0.2% during its most recent reported quarter, fiscal 4Q15.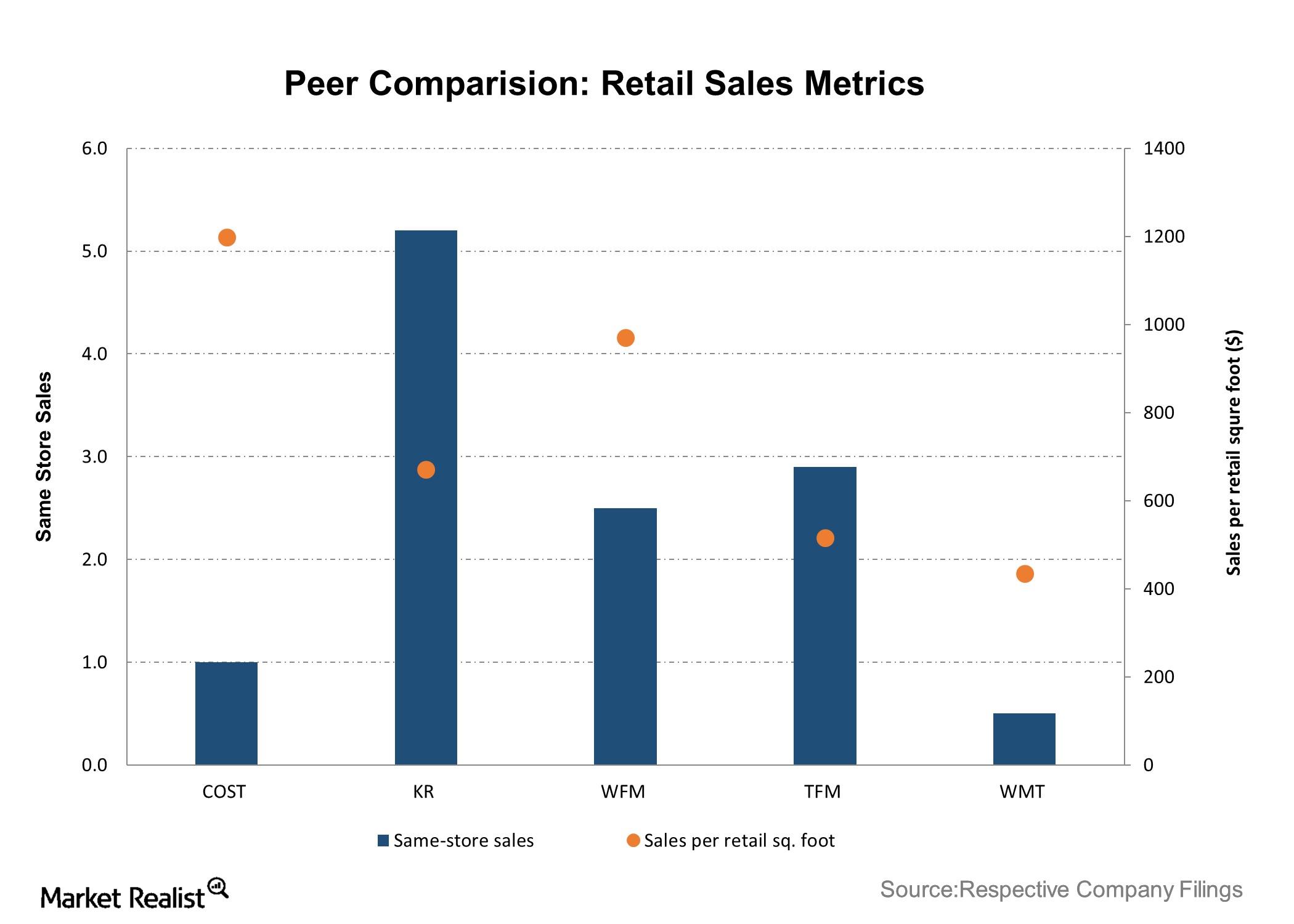 We should note here that the above comparison is for Whole Foods' most recent fiscal year, fiscal 2015, which ended on September 27, 2015. The year-end dates for fiscal 2015 for the above retailers are as follows:
Costco Wholesale Corporation—August 30, 2015
Kroger—January 31, 2015
Whole Foods—September 27, 2015
The Fresh Market—January 25, 2015
Wal-Mart—January 31, 2015
Why have same-store sales declined?
The main reason behind Whole Foods' lower same-store numbers is the increasing competition in the organic food space. Higher demand for organic food products has caused traditional supermarket chains such as Kroger (KR) and mass merchandisers like Costco (COST) and Wal-Mart (WMT) to encroach on what was previously a market dominated by Whole Foods.
Whole Foods' competitors tend to offer products at more competitive prices, which has caused a decline in the market share that for many years belonged to Whole Foods. Meanwhile, several operational missteps have badly dented the company's image. In June, inspectors from the New York City Department of Consumer Affairs found that Whole Foods was overcharging prepackaged foods with mislabeled weights, leading in some cases to overcharges of nearly $15 per item.
ETF exposures and what's next