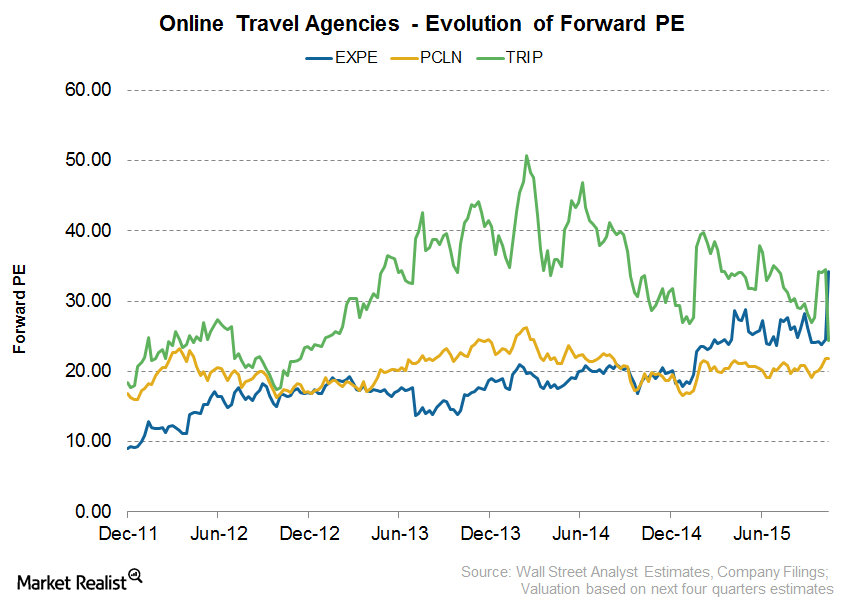 Valuation: Priceline Versus Its Peers
Forward PE ratio
In this series, we've discussed The Priceline Group's (PCLN) 3Q15 earnings, how the company has grown, and what can help it grow. In this final part of our series, we'll look at the company's valuation compared with that of its peers.
We'll use the forward PE (price-to-earnings) ratio to gauge Priceline's valuation. A forward PE ratio is calculated by dividing the company's current stock price by the earnings estimate for the next 12 months.
Article continues below advertisement
Priceline versus peers
As of November 6, 2015, Priceline's forward PE ratio stood at 21.8x. This is mid-level compared with its highest and lowest forward PE multiples of 27.6x and 8x, seen in 2011 and 2008, respectively. Priceline's average valuation stands at 20x. Let's see how this compares with its peers' valuations.
Priceline's forward PE ratio is lower than that of most of its closest peers.
Its closest rival, Expedia (EXPE), was valued at a forward PE multiple of 24.5x during the corresponding period.
TripAdvisor (TRIP), the biggest rising threat to other online travel agencies, had a forward PE multiple of 34.5x during the same period.
Priceline's lowest forward PE multiple among peers could mean that investors are expecting lower growth.
TripAdvisor is expected to grow at a much faster pace, aided by its smaller size.
Although the PE ratio is used widely because of its simplicity, the measurement has some disadvantages. For example, a PE ratio does not take into consideration the amount of excess cash a company has.
Next, we'll compare these companies based on their forward EV/EBITDA (enterprise value to earnings before interest, tax, depreciation, and amortization) ratios.
Forward EV/EBITDA ratio
As of November 6, 2015, Priceline had a forward EV/EBITDA ratio of 17x, which is significantly higher than its average of 14x. This ratio is higher than Expedia's forward EV/EBITDA ratio of 13x, but lower than TripAdvisor's ratio of 19.6x during the same period.
Priceline accounts for 3% of the Global X Guru Index ETF (GURU). Its other rivals include Ctrip (CTRP) and Qunar Cayman Islands (QUNR). For more information, please visit Market Realist's Online Travel Agency page.