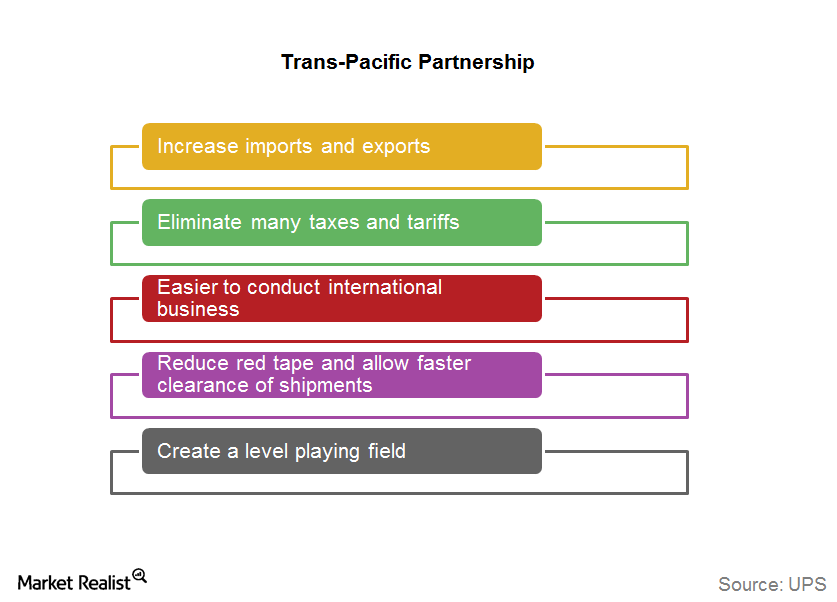 UPS and the Trans-Pacific Partnership: Simplicity in Trade?
What is TPP?
The TPP (Trans-Pacific Partnership) is a historic deal that aims to open up cross-border trade between American and Asian markets. The deal has garnered agreements between the United States and 11 other countries as of October 2015. This new deal, which would consist of countries that make up 40% of the global economy and a quarter of global trade, is expected to establish the rules of twenty-century trade across nations globally. But as of October, the deal is still awaiting congressional review and approval in the US.
Article continues below advertisement
Advantages
By opening up cross-border trade between member nations, the TPP is expected to significantly increase imports and exports. It should eliminate many of the taxes and tariffs that were previously applied between nations, making it easier to conduct international business.
The TPP should also help cut down customs red tape, allow faster clearance of shipments, and create a more level playing field for private companies in competition with government-supported companies. Broadly speaking, the deal aims to benefit a wide range of industries in the US, such as apparel companies, livestock producers, and other large and small businesses.
How will UPS benefit?
Because the TPP is expected to simplify business for small- and medium-sized companies, which make up about 90% of the total companies in the US, increased business across borders should benefit logistic companies, giving them better volumes at lower costs. In this sense, UPS would be better positioned to help its customers, small or large, and could capitalize on the expanded global trade and other new growth opportunities that the agreement aims to offer.
Major international players that compete with UPS include FedEx Corporation (FDX), TNT Express (TNTEY), Deutsche Post (DPSGY), and Yamato Holdings Company (YATRY). UPS makes up 3.59% of the holdings of the Industrial Select SectorSPDR ETF (XLI). Its competitors in the US include Air Transport (ATSG), C.H. Robinson Worldwide (CHRW), and Con-way (CNW), which was acquired by XPO Logistics in October 2015.
Continue to the next part of this series for a discussion of the challenges UPS faces as the 2015 holiday season looms.