TripAdvisor's Revenue Drivers for Its Largest Revenue Stream
What are the key revenue drivers of TripAdvisor's (TRIP) click-based advertisement revenue? We can break them down into a few key metrics.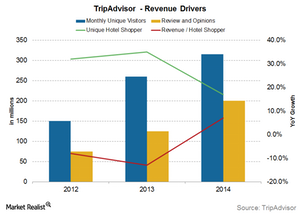 Click-based advertising drivers
What are the key revenue drivers of TripAdvisor's (TRIP) click-based advertisement revenue? We can break them down into a few key metrics that the company reports: unique hotel shoppers, revenue per hotel shopper, and inventory. Although the number of monthly unique visitor is an important metric, it has become less valuable. The company has become increasingly diversified into categories such as restaurants and attractions that don't fall under click-based advertising revenue.
Article continues below advertisement
Article continues below advertisement
Inventory
TripAdvisor's inventory has increased by 20% in 2014 to 4.5 million places to stay from 3.7 million in 2013. It increased by another 19% in 2015, taking the total inventory to 5.3 million. Reviews and opinions have grown from just 75 million posts in 2012 to 200 million in 2014 and 290 million in 2015.
Having a vast and increasing inventory is one of the basic requirements of TRIP's business model. Without content, the company would have no users.
Unique hotel shoppers
TripAdvisor's unique hotel shopper growth fell to 17% in 2014 from 35% in 2013. The company attributed the deceleration to high hotel shopper growth in 2013, which benefited from SEO. The company stated that increasing the number of hotel shoppers remains a top strategic priority.
According to the company's filings, hotel shoppers are "visitors who view either a listing of hotels in a city or a specific hotel page." The number of hotel shoppers varies due to seasonality, economic conditions, and usage trends. For example, the more people look to travel, and the more people know about TripAdvisor or find the website useful, the higher the number of unique hotel shoppers.
Article continues below advertisement
Revenue per hotel shopper
TripAdvisor's revenue per hotel shopper rose 7% in 2014. The rise was largely due to the implementation of hotel metasearch, reversing the 13% decline the company saw in 2013. The metasearch allowed consumers to compare prices for a particular property, which provides higher-quality clicks for advertisers. This was partially offset by lower rates of hotel shopper conversion.
Revenue per hotel shopper measures how effectively TripAdvisor is able to convert hotel shoppers into revenue. This number is driven by the rate of conversion of a hotel shopper to a paid click and the price per click. The three main factors that affect conversion are:
merchandising (display)—the number and location of ads on a page
commerce coverage (inventory)—whether a client can take an online booking for a particular property
choice (option)±the number of clients available for a particular property
Cost per click (or price per click) depends on the amount that TripAdvisor's hotel, airline, cruise, and OTA (online travel agency) partners are willing to pay for a hotel shopper lead. Wyndham Hotel Group (WYN), Marriott (MAR), and Priceline (PCLN) are the latest additions to the company's growing list of more than 70 hotel chains, groups, and partners. TRIP makes up 1.8% of the NASDAQ-100 Ex-Technology Sector Index (QQXT).
The company's per-click ad rates have grown very strongly since its metasearch model allows it to display all pricing options on one page. However, emerging international destinations and mobile users tend to yield lower CPCs.