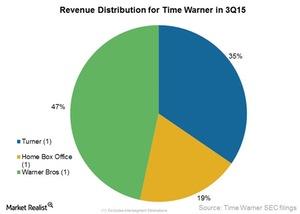 Time Warner: 3Q15 Business Segment Performance
By Shirley Pelts

Nov. 5 2015, Updated 1:51 p.m. ET
Key business segments
Time Warner (TWX) announced its 3Q15 results on November 4, 2015. The company has three segments, namely, Turner, HBO (Home Box Office), and Warner Bros. The company's revenue growth in 3Q15 was spurred by a 5% revenue growth at its HBO business segment and a 15% revenue growth at Warner Bros.
As the chart above indicates, Warner Bros. was a major contributor to Time Warner's revenues in 3Q15, accounting for 47% or $3.2 billion in revenues, Turner was another significant contributor at 35%, with revenues of $2.4 billion in 3Q15. Home Box Office had a 19% share of Time Warner's total revenues of $6.6 billion in 3Q15.
Now, let's take a look in detail at each of these segments.
Article continues below advertisement
Turner
This segment had revenues of $2.4 billion, a fall of 2% over 3Q14. Revenues fell due to a 15% year-over-year fall in content revenues and a 1% fall in each of the revenues from subscription and advertising over 3Q14. Content revenues fell because of lower revenues from the subscription video-on-demand (or SVOD) service.
However, adjusted operating income was up year-over-year by a significant 206% to $1.1 billion in 3Q15. This was because programming costs fell by 45% year-over-year due to a fall in restructuring and severance costs.
HBO
HBO had revenues of $1.4 billion in 3Q15, a rise of 5% over 3Q14. The growth in revenues was primarily driven by a 13% year-over-year growth in content and other revenues to $19 million in 3Q15. The reason for this was a rise in domestic licensing revenues.
Adjusted operating income was $519 million in 3Q15, a growth of 37% over 3Q14. This was due to a fall of 6% in programming costs from a fall in costs related to acquired theatrical programming.
Warner Bros.
Warner Bros. had revenues of $3.2 billion in 3Q15, a rise of 15% over 3Q14. The growth in revenues was driven by higher licensing revenues from videogames including LEGO Dimensions and Mad Max. This segment also had higher television licensing revenues from TV shows like 2 Broke Girls.
Adjusted operating income was $388 million in 3Q15, up by 61% from 3Q14 due to lower costs.
Time Warner makes up 0.23% of the iShares Russell 1000 Growth Index ETF (IWF). The same ETF also holds 6.6% of Apple (AAPL), 2.3% of Microsoft (MSFT), and 2.2% of Amazon (AMZN).