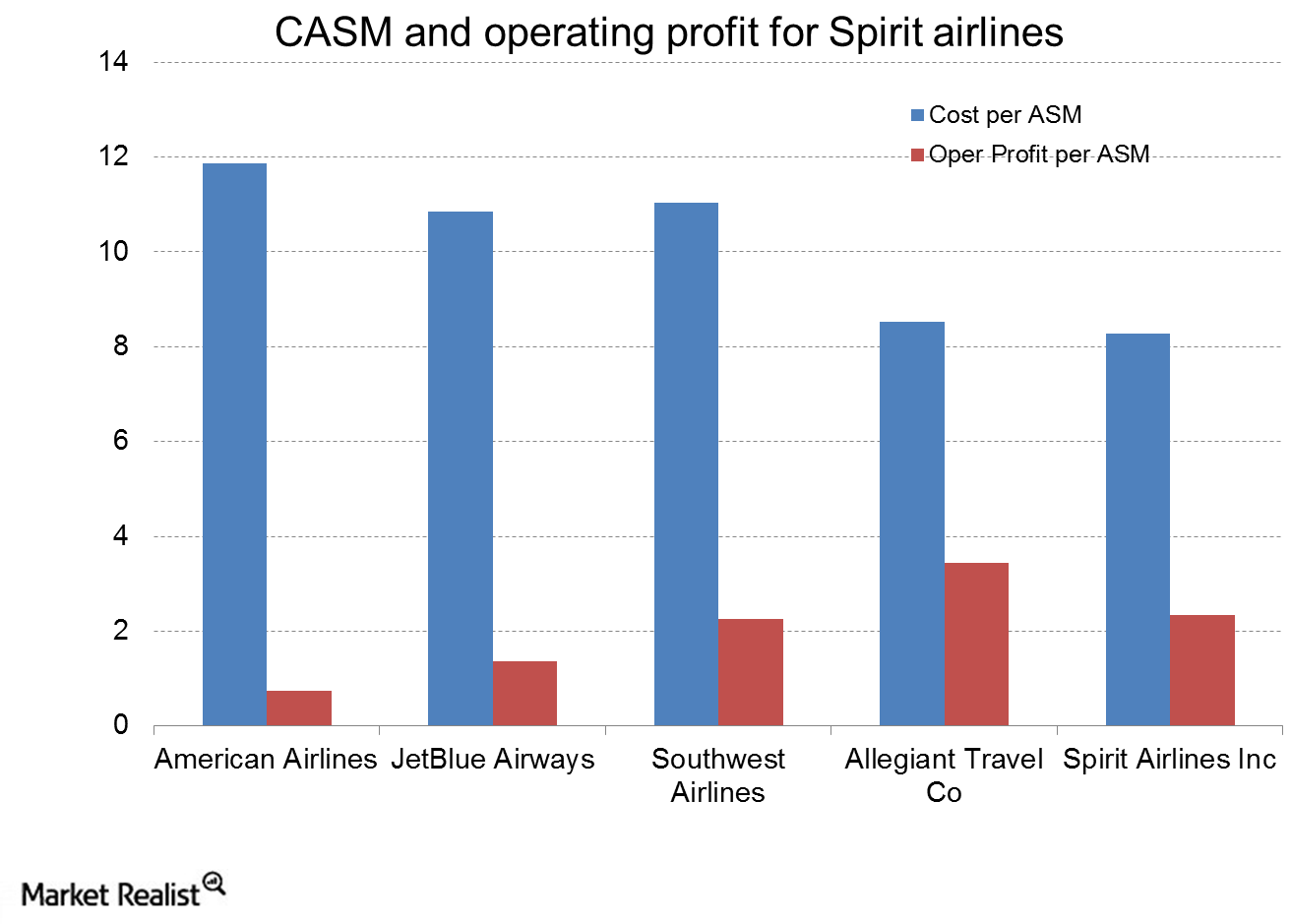 How Does Spirit Airlines Manage Its Low-Cost Structure?
Profitability: Spirit Airlines
Spirit (SAVE) ranks first in profitability among seven airlines in the United States. The main driver for this ranking comes from its exceptional ability to manage costs. Some of the techniques airlines use to cut its costs are as follows.
Article continues below advertisement
High daily aircraft utilization
Aircraft utilization is one of the important measures of operational efficiencies that low-cost airlines count on to lower unit costs. Higher utilization should result in lower fixed costs per unit, as the costs spread across more air trips and passengers, resulting in lower costs per available seat mile. Point-to-point carriers like Spirit have better aircraft utilization rates, resulting in lower operating costs compared to hub-and-spoke carriers for two reasons. Firstly, their shorter trips enable a higher number of trips in a given period. Secondly, their turn-times are shorter than hub-and-spoke carriers. Turn time is the time taken to unload an airplane and prepare it for the next departure. Higher turn-times allow passengers to arrive from different feeder airlines.
Spirit's relatively young fleet, due to low maintenance time and fewer breakdowns, enables the company to have high aircraft utilization. The airline had an average daily aircraft utilization rate of 12.8 hours in 2012, 12.7 hours in 2013, and 12.7 hours in 2014. Aircraft utilization rates for Southwest (LUV), JetBlue (JBLU), and Allegiant (ALGT) were only 10.4 hours, 11.5 hours, and 5.7 hours.
Article continues below advertisement
More seats per plane
Spirit uses the trademark "Plane Simple" strategy to increase the seat density in its planes. This should result in increased available seat miles without increasing any fixed costs. The company's A319 planes have 145 seats, compared to 128 seats available for the same plane on United Airlines and American Airlines (AAL). Similarly, the company's A320s accommodate 178 seats compared to 150 seats on JetBlue Airlines (JBLU) and United Airlines. Spirit's A321s have 218 seats compared to 181 seats on American Airlines and 190 on JetBlue Airlines.
Single aircraft
Spirit currently has 65 planes in its fleet, comprising only A319, A320, and A321 planes. This family of planes has a similar cockpit and operational mechanism, which helps the airline manage its pilots more effectively. Even the passenger cabins are similar in these planes, making the cabin crew interchangeable in different planes and avoiding the cost of training crew members for different type of planes. Costs are also reduced in training the supporting ground crew, which simplifies extra parts inventory management. Spirit's future plans to buy or lease aircraft consist only of Airbus A320 planes.
Investors can gain exposure to the airline industry through the iShares Dow Jones Transportation Average ETF (IYT) and the U.S. Global Jets ETF (JETS).