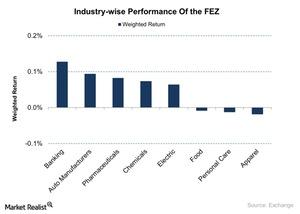 Positive Manufacturing Reports Drive the FEZ Up
Manufacturing reports drive the FEZ up
The SPDR Euro Stoxx 50 ETF (FEZ) is a US exchange-traded ETF that tracks the performance of the 50 largest companies across the Eurozone. On November 2, the fund closed at $37.05, rising by 1.2% from the previous trading session. This performance was driven by several events:
That day's Eurozone manufacturing PMI (Purchasing Managers Index) stood at 52.3, compared with 52 on October 1. This includes the Italian, German, and French manufacturing PMIs.
That day's Italian manufacturing PMI stood at 54.1, compared with 52.7 on October 1.
That day's German manufacturing PMI stood at 52.1, compared with 51.6 on October 1. This report indicates that domestic demand, one of the major drivers for the development of a country's economy is increasing slowly.
Article continues below advertisement
Industry-wise performance of the ETF
The top five industries contributing towards FEZ's performance on November 2 were banking, auto manufacturers, pharmaceuticals, chemicals, and electric. The bottom three industries of the ETF were food, personal care, and apparel. The graph above shows FEZ's performance, industry-wise, on November 2.
Key stocks that drove the ETF's performance
Of the 50 constituents of the fund, 38 stocks gave positive returns on November 2. The top three performing stocks were Bayer (BAYRY), Daimler (DDAIF), and Total (TOT). There were several factors driving this performance:
Bayer contributed the highest weighted return of 0.08% due to its earning results on October 30, which beat market expectations with $0.20 EPS (earnings per share).
Daimler contributed a weighted return of 0.06% as it reported high volume sales in the third quarter and beat market expectations with $2.52 EPS.
Total contributed a weighted return of 0.05% as it announced that it will engage in worldwide oil and gas production. It will also expand its multinational specialty chemical business.
Weighted return refers to the return calculated by multiplying the weight of the stock in the ETF with the individual return of the stock.
The SPDR Euro Stoxx 50 ETF (FEZ) is made up of large capitalization stocks such as Sanofi (SNY), Total (TOT), Banco Santander (SAN), Siemens (SIEGY), and Anheuser-Busch InBev (BUD). These stocks make up 5.0%, 4.8%, 3.4%, 3.1%, and 3.6%, respectively, of the FEZ portfolio. In the next part of this series, we'll analyze the ETF from a technical point of view.