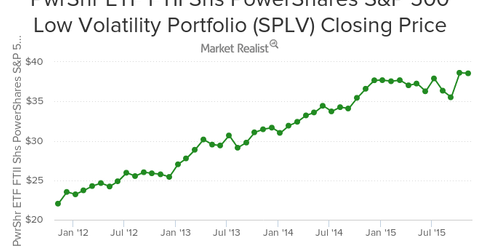 An Overview of Smart Beta Fund SPLV
By Ivan Kading

Nov. 9 2015, Published 5:34 p.m. ET
Smart beta ETFs
Smart beta funds are passively managed funds that seek to replicate indexes based on alternative weighting methodologies. These methodologies can be used as substitutes in place of their actively managed counterparts.
Low-volatility, high-dividend, and fundamentally weighted methodologies are the three most-used alternative methodologies by smart beta funds.
[marketrealist-chart id=801760]
According to a survey done by Invesco, "Smart beta ETFs saw the highest year-over-year increase in institutional usage…While the proportion ETF assets invested in market cap-weighted ETFs dropped from 75% to 68% from 2013 to 2014, the asset proportion invested in smart beta ETFs increased from 7% to 13%."
In this series, we'll analyze the holdings and performance of one such smart beta fund, the PowerShares S&P 500 Low Volatility ETF (SPLV).
Article continues below advertisement
Low volatility index
SPLV seeks to mimic the investment results of the S&P 500 Low Volatility Index. Low-volatility stocks are relatively less risky than other stocks, as they tend to remain flat during active market movement. As a result, they miss out on potential gains during market booms but reduce losses during market falls.
SPLV's top holdings of include PepsiCo (PEP), ACE (ACE), Republic Services (RSG), Procter & Gamble (PG), and McDonald's (MCD).
Constant portfolio
SPLV, as defined by its principal investment strategies, manages a total portfolio of 100 stocks taken from the S&P 500 universe. These 100 stocks are added to SPLV's portfolio based on their volatility scores. Stocks with the lowest market volatility have the highest ranks. The portfolio is rebalanced every quarter.
In the next part of the series, we'll study the historical performance of SPLV.