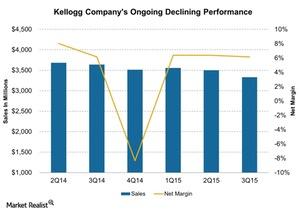 Kellogg Company's Disappointing Performance in 3Q15
By Sushree Mohanty

Nov. 4 2015, Updated 8:36 a.m. ET
Third quarter 2015 performance highlights
The Kellogg Company's (K) net sales in 3Q15 fell 8.5% quarter-over-quarter to $3.3 billion due to the effect of currency translation. The company also missed analyst estimates of $3.4 billion in revenue. Currency-neutral comparable net sales rose by 1% quarter-over-quarter in 3Q15. Quarterly reported operating profit was $334 million, a decline of 8.7%. Currency-neutral comparable operating profit fell by 2.3%.
Article continues below advertisement
Reported earnings for 3Q15 were $205 million, or $0.58 per share, a decrease of 6% from the $0.62 per share reported in 3Q14. Adjusted comparable 3Q15 earnings were $0.85 per share. This result included a negative impact of $0.11 per share from currency translation. Currency-neutral comparable earnings per share were $0.96 per share. The company had a good price mix realization despite some adverse country mix in Europe and Asia-Pacific. Overall volume declined by 1.6%. While volume decreased in the U.S. Cereal and Snacks segments, these segments continue to see signs of stabilization.
Factors that impacted 3Q15 performance
Kellogg Company's third quarter profit and revenue declined because of a shift in consumer tastes and a stronger dollar despite sales growth in most of its segments. The company experienced strong growth in many of the emerging and developing markets in Latin America, Asia Pacific, and Europe, as well as its U.S. cereal business. The U.S. Snacks segment improved sequentially, and the company saw growth in the U.S. Specialty Channels and Canadian businesses. Pringles posted increased sales growth in each of its regions and contributed to the increase in net sales. Reported operating profit was affected by up-front costs associated with Project K and currency translation.
The currency-neutral operating profit decline includes a headwind from the resetting of incentive compensation closer to targeted levels this year. Without this impact, comparable operating profit would have been 8 points higher and would have shown growth of ~6%.
Article continues below advertisement
This quarter's reported EPS (earnings per share) included negative impacts from the remeasurement of the Venezuelan business of $0.04 per share and mark-to-market accounting of $0.04 per share. EPS also included costs associated with the Project K efficiency and effectiveness program of $0.18 per share and $0.02 per share of integration and transaction costs. Also, reported results included a gain of $0.01 per share from acquisitions.
Peers' performance
Kellogg Company's competitors in the industry are Cal-Maine Foods (CALM), The Hershey Company (HSY), and Mead Johnson Nutrition Company (MJN). They reported gross margins of 43.1%, 45.5%, and 64.5%, respectively, for their last quarter. The First Trust Capital Strength ETF (FTCS) and the iShares Morningstar Large Growth ETF (JKE) invest 2.1% and 0.27%, respectively, of their portfolios in the MJN stock.