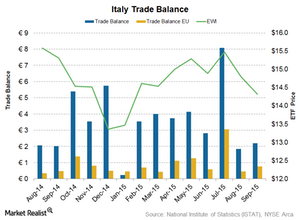 Italy's Trade Surplus Widened with Declining Imports in September
Italy's September trade surplus increased to 2.2 billion euros
According to the National Institute of Statistics (or ISTAT), Italy's goods and services surplus rose to 2.2 billion euros in September 2015 compared to 2.0 billion euros a year ago. Although the country's trade surplus is growing, the iShares MSCI Italy Capped ETF (EWI) has decreased 3.1% over the past year as of November 16, 2015.
Enersis (ENI) and STMicroelectronics (STM) were down 24.3% and 4.5%, respectively. On the other hand, Luxottica (LUX) and Telecom Italia (TI) were up 31.3% and 8.9%, respectively, from a year ago as of November 16, 2015.
Article continues below advertisement
Exports increased 1.4% in September
Italy's exports contribute about 29.4% to the country's GDP. Exports increased 1.4% to 35.1 billion euros in September 2015 from a year ago. The rise in exports was led by an increase in exports of consumer goods and capital goods by 4.0% and 3.4%, respectively, in September.
Although Italy's energy exports declined 21.4%, they comprised only 3.7% of the country's total exports and does not have a significant impact on the country's export data. Italy's increased exports were mainly led by the other members of the European Union, which increased by 4.2%. Exports to non-EU countries declined by 2.0% in September.
Imports rose at a slower pace in September
Year-over-year, Italy's imports rose at a slower pace by 0.7% in September to 32.9 billion euros. Like the country's exports, its growth in imports was mainly due to the 2.4% increase in imports from other EU nations, whereas non-EU imports recorded a 1.8% decline in September 2015.
A 25.0% decrease in energy imports helped to keeping the country's overall imports lower. However, capital goods and consumer goods increased by 4.0% and 9.3%, respectively, in September. Although Italy's trade surplus has increased, the major growth came from EU nations while non-EU countries are still lagging in trade activities, as reflected by declining trade in those countries.
Let's look at India's recently released trade data in the final article in this series.