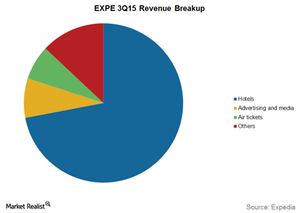 Interpreting Expedia's 3Q15 Performance on Key Metrics
By Ally Schmidt

Updated
Hotels
Hotels continued to be Expedia's (EXPE) largest revenue contributor in 3Q15, accounting for about 72% of the company's total worldwide revenues in 3Q15. Its revenues from hotel bookings grew by 17% YoY (year-over-year) during the quarter, driven by brand Expedia and Hotels.com.
Expedia's hotel revenues were driven by a whopping 36% YoY growth in room nights, which was able to offset the decline in revenues per room. Domestic room nights grew by 25% YoY while international room nights were up by 50% YoY.
The company's revenues per room declined by 15% in 3Q15 due to unfavorable foreign exchange and higher expenditures on increased promotional activities like growing loyalty programs. Acquisitions added to 6% revenue growth and 8% of room night growth in hotels for the quarter.
During 3Q15, Expedia added more than 14,000 properties to its global supply portfolio, taking the total to about 271,000 properties available on Expedia.com sites—an increase of 29% YoY from the third quarter of 2014.
Article continues below advertisement
Advertising and media
Expedia's second major revenue contributor in 3Q15 was advertising and media. Revenues from the product group increased by 17% YoY in the third quarter of 2015, driven primarily by continued growth in trivago and Expedia Media Solutions. On a TTM (trailing-twelve-month) basis, the company's advertising and media revenue grew by 23% YoY to over $538 million in 3Q15.
Air tickets
Air bookings accounted for about 7% of Expedia's total revenues in 3Q15. Revenues from this product line grew by 19% YoY despite a 9% YoY decrease in revenue per ticket. This was made possible by better ancillary revenues and a 31% YoY increase in air tickets sold.
Article continues below advertisement
Others
All other revenues, including revenues from car rentals and cruise and travel insurance products, also saw a healthy 15% YoY growth in the third quarter of 2015.
Expectations
As for hotels, Expedia expects its revenue per room night to decline along with its room rates for the year 2015. However, it expects to add even more properties in the fourth quarter of 2015 due to seasonality. The company expects to continue to see margin reduction headwinds for most of fiscal 2016.
Expedia competes with major online travel companies such as Priceline Group (PCLN), Ctrip.com International (CTRP), and Tripadvisor (TRIP). EXPE makes up 2% of the S&P 500 Pure Growth ETF (RPG).
But as we look ahead, what factors could affect Expedia's earnings in 4Q15? Continue to the next part of this series to find out.