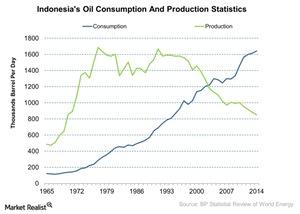 Why Is Indonesia Important as a Net Importer of Oil for OPEC?
By Rabindra Samanta

Updated
Indonesia's importance as a net importer of oil
Indonesia (EIDO) is looking for a long-term strategic alliance to support the demand of crude oil for its economy. Since 2003, Indonesia has been a net importer of oil. It imports were almost double the oil it produced in 2014. Also, it's one of the emerging economies in the Southeast Asia. As fuel is the basic demand of any emerging economy, Indonesia's demand for crude oil could grow in future. The graph below illustrates the consumption and production of crude oil in the country since 1965.
Article continues below advertisement
Turmoil in OPEC
OPEC[1. Organization of the Petroleum Exporting Countries], led by Saudi Arabia, isn't reducing the production of crude oil even in the oversupplied market. The organization doesn't appear to want to lose its share in the oil market to US shale producers. Moreover, experts feel that OPEC is experiencing trade challenges with Russia (RSX) in Asian regions due to the fall in prices of crude, narrowing profit margins, and geopolitical issues. China's oil market was once dominated by Saudi Arabia, but now Russia is leading that market. The extra demand rising out of Indonesia in 2014 is 2.1% of OPEC's output. Again, this will raise OPEC's output by 2.3%, making the organization control around 42% of world's total production as per the statistics of 2014. Gazprom Pao (OGZPY), Lukoil (LUKOY), and Tatneft (OAOFY) represent the large-cap Russian ADRs (American depositary receipts) in the oil and gas sector.