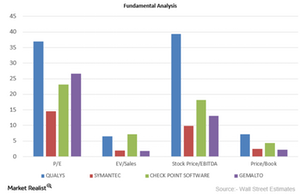 A Fundamental Analysis of Qualys and Its Peers in 3Q15
By Parker Thomas

Updated
Fundamental analysis
A company's PE (price-to-earnings) ratio indicates how much its investors must pay for every dollar it earns. The lower the ratio, the better it is for investors.
Qualys (QLYS) has a PE ratio of 37.0 compared to its peers Symantec, which has a PE ratio of 14.5, and Check Point Software (CHKP), which has a PE ratio of 23.17. A company with a high PE ratio indicates positive future growth, allowing investors to be willing to pay a higher price per share.
The chart above represents the key ratios that indicate Qualys's financial health and performance compared to those of its industry peers.
Article continues below advertisement
Enterprise value
Enterprise value (or EV) is a strong indicator of a company's valuation. EV is considered to be an accurate measure for valuing a company because it doesn't take into account the debt that a company must repay.
The lower its EV/Sales (enterprise-value-to-sales) ratio, the more attractive or undervalued a company is believed to be. Gemalto and Symantec show EV/Sales ratios of 1.8 and 2.0, respectively, followed by Qualys's EV/Sales ratio of 6.4 and Check Point Software's EV/Sales ratio of 7.2.
EBITDA and price-to-book ratio
EBITDA (earnings before interest, tax, depreciation, and amortization) is the measure of cash flow from a company's operations. EBITDA does not take into consideration the capital structure utilized by a company. It simply indicates a company's profitability from its core operations.
A low EBITDA ratio indicates that investors are paying less for a more profitable company. Symantec (SYMC) shows the lowest ratio of 9.8 among its industry peers, followed by Gemalto's ratio of 13.0, Check Point Software's ratio of 18.2, and Qualys's ratio of 39.4.
The price-to-book ratio indicates how investors perceive a company. A higher price-to-book ratio indicates that investors have high expectations for a company's growth. Gemalto has a price-to-book ratio of 2.2, the lowest among its peers. Symantec's price-to-book ratio is 2.4, Check Point Software's price-to-book ratio is 4.3, and Qualys's price-to-book ratio is 7.1.
The ISE Cyber Security ETF (HACK) is a portfolio of 32 stocks, of which Check Point Software, Juniper (JNPR), Fortinet (FTNT), and Cisco Systems (CSCO) constitute 4.1%, 4.0%, 5.0%, and 4.3%, respectively.