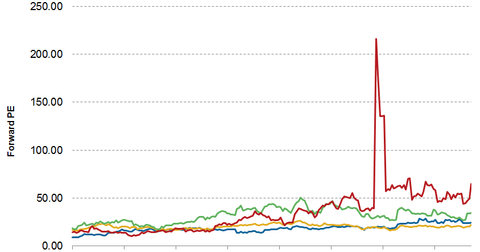 Expedia's Valuation versus Peers after 3Q15
By Ally Schmidt

Updated
Forward PE ratio
Previously in this series, we discussed Expedia's (EXPE) 3Q15 results, which the company released on October 29, 2015. We also looked at how analysts have changed their estimates after the release. In this final part of our series, we'll look at the company's valuation compared to its peers.
We'll use the forward PE (price-to-earnings) multiple to gauge UPS's valuation. A forward PE ratio is calculated by dividing the company's current stock price by the earnings estimate for the next 12 months.
Article continues below advertisement
Expedia versus peers
As of the end of October 2015, EXPE's forward PE ratio stood at 24.5x—close to its all-time high of 29x in May 2015. Below are a few noteworthy comparisons:
EXPE's PE ratio is higher than that of its closest peer, Priceline Group (PCLN), whose stock was valued at a forward PE multiple of 22x during the corresponding period.
TripAdvisor (TRIP), the biggest rising threat to Expedia, had a forward PE multiple of 34.5x during the same period.
Expedia's smaller rival, Ctrip.com International (CTRP) was valued at 65x during the same period.
But while PE ratio is used widely because of its simplicity, the measurement has some disadvantages. For example, a PE ratio does not take into consideration the amount of excess cash a company has. We'll thus compare these companies on a forward EV-EBITDA (enterprise value-to-earnings before interest, taxes, depreciation, and amortization) multiple.
Forward EV-EBITDA ratio
At the end of October 2015, Expedia had a forward EV-EBITDA ratio of 13.11x—significantly higher than its average of 7.75x and closer to its highs of 15.38x in May 2015. This means analysts haven't changed their estimates significantly for the next four quarters following 3Q15.
Still, this multiple is lower than Expedia's other three peers mentioned above. Priceline, for example, had a forward EV-EBITDA multiple of 17x during the same period, while TripAdvisor had a multiple of 19.69x and Ctrip.com had a multiple of 44x.
EXPE makes up 2% of the S&P 500 Pure Growth ETF (RPG). To read a complete overview of Expedia, please click here.