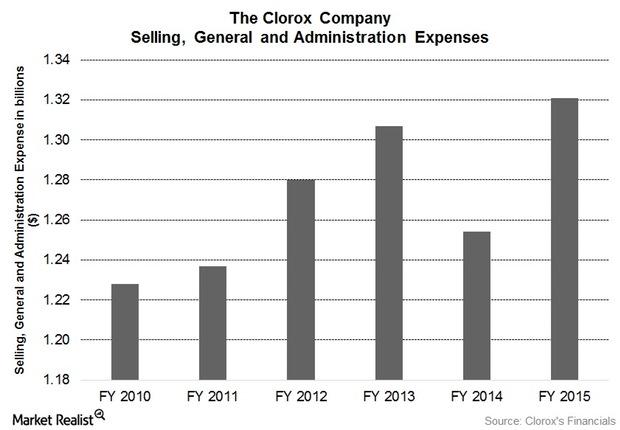 Why Clorox's Marketing Strategies Are Reaching More Households
Selling and marketing overview
In fiscal 2015, Clorox's (CLX) selling, general, and administrative (or SG&A) expenses came in at $1.3 billion, or 23.4% of net sales. SG&A expenses increased 5.3% in fiscal 2015 compared to fiscal 2014. The increase was primarily due to increased advertising and marketing programs.
Clorox and other companies such as Procter & Gamble (PG), Edgewell Personal Care (EPC), and Estée Lauder (EL) believe that advertising, promotion, merchandising, and packaging can significantly impact consumer purchasing decisions.
Article continues below advertisement
Digital and social marketing versus peers
Clorox's use of digital media, e-commerce, and promotional programs helps the company reach more consumers. For example, Clorox launched three short ads in February, each starring a young woman, for its cleaning and bleaching products. The spots end with the hashtag #BleachItAway, inviting consumers to share their own clean-up stories via social media. This helped Clorox connect to consumers directly and also increased brand penetration.
Other companies such as Unilever (UL) and Colgate-Palmolive (CL) are also engaging in attractive digital advertising and e-commerce efforts. For example, Colgate-Palmolive, with the help of Apple (AAPL), developed an interesting application for iPhone users called the Colgate MaxWhite Photo. It's used to whiten smiles in photographs.
Article continues below advertisement
In-store and celebrity advertisements
Apart from digital and social media, promotional activities, in-store displays, and celebrity advertisements are designed to attract new customers. For example, Nora Dunn did a series of television commercials for Clorox Bleach.
Raising marketing and innovation spending
Despite a sluggish and value-focused market, Clorox aims to lower supply-chain costs and intends to keep raising marketing and innovation spending. The company recently sponsored the United States women's national soccer team.
Clorox (CLX) has exposure in the iShares Russell 3000 ETF (IWV) with 0.1%[1. updated as of November 19, 2015] of the total weight of the portfolio.