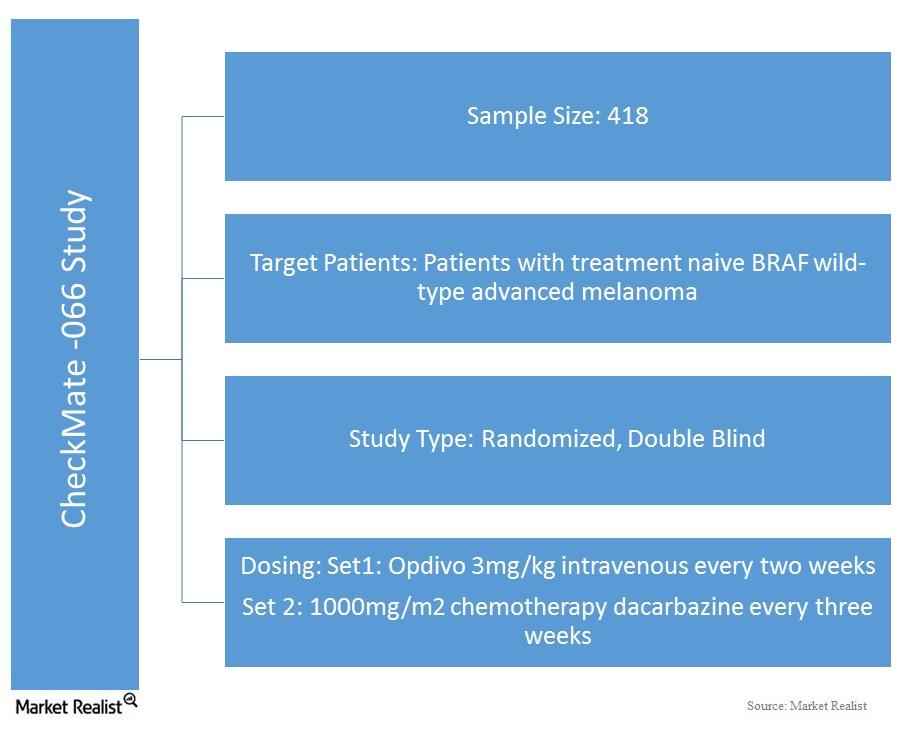 CheckMate -066 Study Supports Opdivo's Approval
By Mike Benson

Nov. 29 2015, Updated 11:05 a.m. ET
Opdivo approved for BRAF wild-type melanoma
Bristol-Myers Squibb's (BMY) Opdivo is a programmed cell death protein 1 (or PD-1) inhibitor. It is already approved by the FDA for two cancer indications, melanoma and advanced NSCLC (non-small cell lung cancer).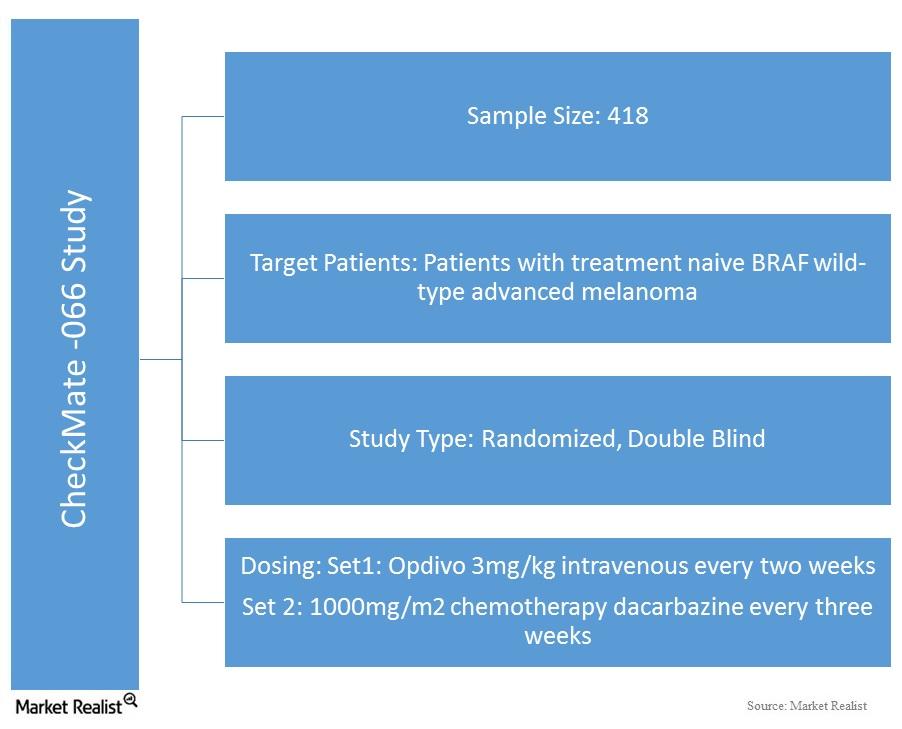 The FDA has now approved Opdivo for the treatment of BRAF WT (wild-type) melanoma, based on the results of a phase 3 study called CheckMate -066. This was the FDA's sixth approval of Opdivo in the last year.
Article continues below advertisement
Details of CheckMate -066 study
According to the company's press releases, the CheckMate -066 study is a phase 3 study that compared the overall survival of treatment-naive patients with BRAF wild-type unresectable or metastatic melanoma treated with Opdivo with the survival of patients being treated with chemotherapy as the first-line treatment. In this study, the total sample size was 418 patients with BRAF WT melanoma. The patients were given either a dose of Opdivo intravenously every two weeks or treated with dacarbazine chemotherapy every three weeks. The study was continued until there was some disease progression observed or there was unacceptable toxicity.
The study was completed last year following an assessment that revealed superior overall survival for Opdivo-treated patients. According to the company's press release, the median overall survival figure was not reached for patients treated with Opdivo, while it was 10.8 months for those treated by dacarbazine chemotherapy. The study also revealed serious adverse reactions in nearly 36% of patients during the trial. These patients were observed to have reactions including fatigue, musculoskeletal pain, and rashes.
In its press release, the company also discussed the broad global development program to study the use of Opdivo for multiple tumor types. There are more than 50 clinical trials in progress for the use of Opdivo in various anti-cancer treatments. All of these programs are listed under the CheckMate series and are being studied for the use of Opdivo as a monotherapy or a combination treatment.
Opdivo competes with drugs such as Pfizer's (PFE) Inylta and Sutent, Bayer's Nexavar, Merck's (MRK) Keytruda, GlaxoSmithKline's (GSK) Mekinist and Tafinlar, and Roche's Zelboraf. Investors can consider ETFs such as the iShares US Pharmaceuticals ETF (IHE), which holds ~7.6% of its total investments in Bristol-Myers Squibb.