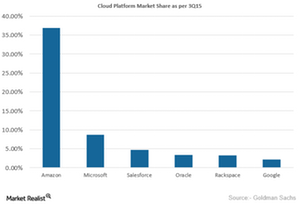 Can AWS and Microsoft Reach 50% Market Share in the Cloud?
Legacy firms running at a snail's pace
Change happens very frequently in the information technology industry, but adapting to those changes is not enough, as survival requires the proper deployment of technical know-how along a refined strategy. That is the reason legacy firms such as Dell, EMC, and Hewlett Packard Enterprise seem to have failed to keep up with the emerging firms in cloud computing.
Instead, legacy firms appear more interested in corporate restructuring that involves spinoffs, mergers, and acquisitions. Dell and EMC have recently announced mergers between them, aiming to get an advantage in hardware and computing power, whereas Hewlett Packard Enterprise was created from a spinoff, with the aim of creating a better focus for its core business.
Article continues below advertisement
Article continues below advertisement
Market share in cloud computing
Amazon's AWS (Amazon Web Services) and Microsoft (MSFT) appear to be at the latest stage of development when it comes to cloud computing. Amazon, whose core business is in e-commerce, has outperformed the big technology giants in cloud computing, whereas Microsoft is tightening its grip on the cloud market by leveraging its Azure tool. Moreover, both Microsoft and Amazon are spending overseas on data centers to bring in new consumers from the United Kingdom, India, and South Korea. Also, Google has planned to expand in "lower-cost" areas like North Carolina in the United States as well as Belgium.
Amazon Web Service had a market share of 36.9% in 3Q15, up from 33.9% in 2Q15. Microsoft and Salesforce acquired the second and third respective positions with shares of 8.7% and 4.7%, respectively, in 3Q15. Goldman Sachs predicts the cloud platform to reach $19.7 billion at the end of 2015, $25.8 billion in 2016, and $32.9 billion in 2017. Moreover, it predicts that Amazon and Microsoft will dominate the entire cloud market, constituting 50% of the total market at the end of 2015, 62% in 2016, and 76% in 2017.
The SPDR S&P 500 ETF (SPY) is a portfolio of 507 stocks, where the top four stocks are Apple (AAPL), Microsoft (MSFT), ExxonMobil (XOM), and General Electric (GE) . They constitute 3.6%, 2.3%, 1.9%, and 1.7%, of SPY, respectively.