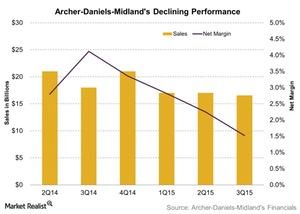 Archer Daniels Midland Reports Another Disappointing Quarter
By Sushree Mohanty

Dec. 4 2020, Updated 10:53 a.m. ET
Third quarter 2015 performance highlights
In 3Q15, Archer Daniels Midland (ADM) earned $684 million in operating profit, down $257 million from 3Q14. The company's net revenue for the quarter was $16.6 billion, down by 8.3% compared to $18.1 billion in net revenue in 3Q14.
On a trailing-four-quarter average basis, Archer Daniels Midland's ROIC (return on invested capital) of 8.3% was above its annual WACC (weighted average cost of capital) of 6.6%. The company's Agricultural Services segment fell $5 million amid lower North American export margins and volumes.
The company's Corn Processing segment fell $176 million on lower bioproducts results, as US ethanol industry conditions remained similar to the second quarter.
The Oilseeds Processing segment's results were lower than its very strong 3Q14 results, as continued strong demand for protein meal was offset by weaker soft seed results. The Wild Flavors and Specialty Ingredients segment earned $70 million in the third reporting period for this business unit.
Article continues below advertisement
Factors that impacted 3Q15 performance
ADM mentioned in its press release that compared to the second quarter, market conditions in the third quarter were fairly similar, with weak industry ethanol margins and competitive US exports. Thus, the operating profit reported was in-line with the company's expectations.
The significant reduction in revenue was mainly driven by a large fall in commodity prices and foreign exchange translation. Also, the cost of goods sold was impacted because of lower input prices. ADM continues to execute its strategic plan and has closed on the sale of its global cocoa business, acquired Eatem Foods, and closed its Eaststarch transaction.
The company is also making strong progress in driving operational efficiencies, which will further enhance its cost position. The company remains committed to its balanced approach to capital allocation for its shareholders.
Share repurchase
Over the year 2015, ADM has spent about $1.8 billion to repurchase about 37.5 million shares toward their 2015 target of repurchasing $1.5–$2 billion worth of shares, subject to strategic capital requirements. The company's average share count for the first nine months was 627 million diluted shares outstanding, down 31 million from 3Q14.
At the end of the third quarter, it had 607 million shares outstanding on a fully diluted basis. It expects to complete about $2 billion worth of share repurchases by the end of the calendar year and to finish the year with about 600 million shares outstanding on a diluted basis.
Peers' performance
Archer Daniels's competitors in the industry are Flowers Foods (FLO) and B&G Foods (BGS). ADM, FLO, and BGS reported net margins of 5.8%, 3.4%, and 9.3%, respectively, for their last-reported quarters.
The Vanguard S&P Mid-Cap 400 Value ETF (IVOV) and the iShares Morningstar Mid Core ETF (JKG) each invests 0.53% and 0.32% of its portfolio in FLO.