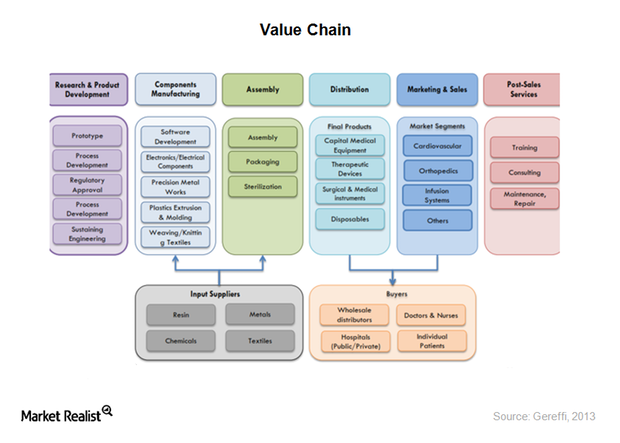 Analyzing Value Chain and Business Models in Medical Device Industry
Value chain
The medical device industry is composed of companies that provide different levels of products and services, which determine their competitive positioning and differentiation in the market.
Companies identify and implement different strategies depending on their position in the growth trajectory. Companies in the mature segment attain value creation by focusing on cost-containment across the value-chain continuum. Marketing and sales are a key stage in this process. For companies with innovative new product categories, research and development (or R&D) and innovation are the most important stages in the value chain.
Article continues below advertisement
The traditional value chain for the medical device industry, which historically has been driven by innovation and research and development, is witnessing a shift in the landscape. Medical device companies have been focusing more on creating value for payers, practitioners, and patients not only by providing innovative, quality products but also by considering cost efficiency.
Business model
The US medical device industry has been working on traditional business models based on R&D and innovation where physicians have been the target audience willing to pay for products with incremental improvements. The efficacy and safety of the products have been the most important criteria for their commercial success. Lately, a shift to value-based healthcare has led to medical devices companies revamping their business models. Evolved models in the medical device industry are based on providing clinical value with cost efficiency.
Technological advancement and better infrastructure have been important factors in the business model transformation. Coordinated therapies, services, and health analytics enable efficient outcome measurement and concise solutions that drive these business models.
Article continues below advertisement
With the saturation in the high-end device segment and commoditization in the low-end segment, it is imperative for the medical device industry to adopt new business models. Medtronic is an example of a leading medical device company that is actively seeking to shift to new business models with changing industry dynamics. To improve operational efficiencies, Medtronic (MDT) formed Medtronic Hospital solutions to create novel partnerships with hospitals.
Other companies adopting reengineered and innovative new business models are GE Electric (GE), Stryker (SYK), and Zimmer Biomet Holdings (ZBH). Amid these disruptive changes in the industry, ETFs such as the iShares U.S. Medical Devices ETF (IHI) provide an investment option to maintain exposure to the best and the biggest companies in the sector, thus being subjected to lower risk.