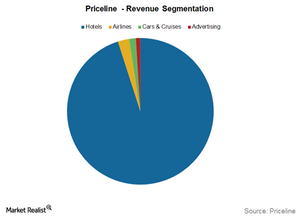 An Overview of Priceline's Revenue Sources
By Ally Schmidt

Nov. 9 2015, Published 12:16 p.m. ET
Overview
In 2014, Priceline (PCLN) saw a 24% year-over-year revenue growth, primarily boosted by strong advertising revenue growth. It is expected to reach $9.24 billion in sales by the end of 2015, versus $6.52 billion in forecasted sales for its competitor, Expedia (EXPE).
Priceline has seen robust growth in revenue over the years after the financial crisis of 2008–2009 passed. However, the pace of revenue growth has slowed in recent quarters from a strong 33% year-over-year growth to a mere 7.4% year-over-year. Let's look at the various revenue segments of the company.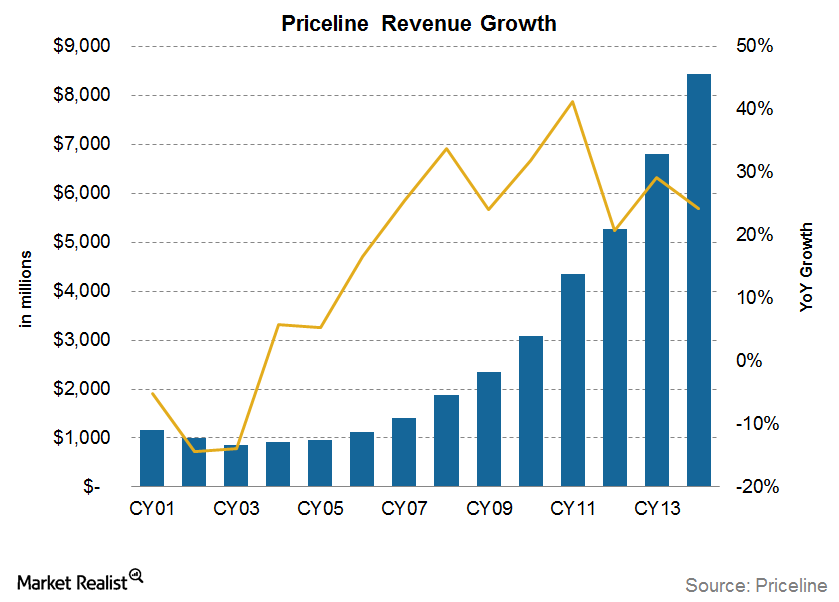 Article continues below advertisement
Hotels
Priceline Group's online booking site Booking.com is the company's key revenue driver from hotel bookings. The company derives more than 90% of its revenues from hotel bookings, and it also has the highest margins. Booking.com focuses on Europe, and Agoda.com focuses on Asia–Pacific and other international markets that have helped drive the top line. This has helped the company realize double-digit growth in the past nine quarters.
The hotel booking segment has posted strong growth since Priceline's 2005 acquisition of Booking.com. This growth was driven by strong bookings due to a shift in travel bookings to online modes using mobile devices and apps. While the domestic markets remain weak, international growth should be the key to Priceline's progress.
Article continues below advertisement
Airlines
Airline tickets are perhaps the most competitive online products due to fierce competition in the airline industry, chronic overcapacity, and low occupancy rates. Also, the recent shift in airlines preferring to sell tickets directly from their websites has forced OTAs to remove revenue components such as processing fees, cancellation fees, and rescheduling fees.
Airline bookings form about 10% of the total bookings for Priceline Group and yet contribute to less than 2% of the revenues. However, airline bookings form an essential component of any travel plan and cannot be eliminated. Priceline and other OTAs try to bundle other services such as hotel room bookings, car rentals, and cruises to gain better traffic, which can in turn help them get better discounts from suppliers.
Car rentals and cruises
Priceline Group's cruise and car rental services division have been traditionally bundled with its other primary products. However, it has recently seen better demand and has emerged as a separate travel product. The company earns robust margins in this segment, which contributes to about 2% of its revenues and bookings.
Advertising
Advertising is the latest and fastest-growing revenue segment for the company. Priceline Group's acquisition of Kayak and its expanding international presence has helped the company gain huge user traffic. This makes it a lucrative advertising medium for travel products and suppliers. Although the segment contributes to a small part of the company's revenues, it is expected to see steady growth in the future.
Priceline competes with major online travel companies like Expedia (EXPE), Ctrip (CTRP), Travelzoo (TZOO), MakeMyTrip (MMYT), and TripAdvisor (TRIP). Priceline accounts for 3% of the Top Guru Holdings Index ETF (GURU).
In the next part, we'll look at Priceline's financial condition.