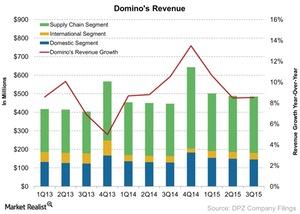 Why US Economic Activity Is Important to Domino's Pizza
By Adam Jones

Updated
Domino's segment sales
Domino's Pizza (DPZ) earns revenue from three segments: Domestic, International, and Supply Chain. The Domestic segment includes sales from company-owned stores and royalties from franchises in the US.
The International segment sales include royalties from the franchises. Supply Chain revenue is mainly driven by Domino's company-owned and franchise stores in national and international markets.
Article continues below advertisement
 Overall sales lift
Domino's overall revenue increased $38 million to $485 million, compared to $447 million in 3Q14. This is higher compared to Domino's past 18-quarter average annual revenue growth rate of 7%.
Revenue from the Domestic Segment, which includes company-operated and franchised stores, grew 13% to $146 million, compared to $130 million in 3Q14. This is impressive considering Domino's past 20-quarter revenue growth of 4% from this segment.
Revenue from the International Segment grew just 2% to $35 million, compared to $34.5 million a year ago in 2014. The international segment has generally seen wide shifts in revenue growth in the past few quarters.
Supply chain
Revenue from the Supply Chain segment grew 7% to $304 million, compared to $238 million in 3Q14.
This segment accounts for about 63% of Domino's total supply chain sales in domestic and international markets.
The Supply Chain segment consists of facilities that manufacture fresh dough and other food items.
This segment also involves the delivery of food items, as well as equipment and supplies, to franchised and company-owned stores.
More focus on Domestic segment
Although Domino's is spread over 75 countries, most of the company's revenue comes from domestic markets and is more sensitive to economic conditions in the US.
This focus on the domestic market is unlike Yum! Brands (YUM), which is highly sensitive to China. You can read more about Yum! Brands' 3Q15 earnings in Yum! Brands' 3Q15 Results and Outlook: Now What?
The iShares US Consumer Services ETF (IYC) holds 1% of Yum! Brands (YUM), 3% of Starbucks (SBUX), and 3.3% of McDonald's (MCD).
Supply Chain segment sales are primarily driven by Domino's stores. If the stores are not performing well, this segment also takes a hit. To learn more about the health of Domino's store sales, we will look at the same-store sales growth next.