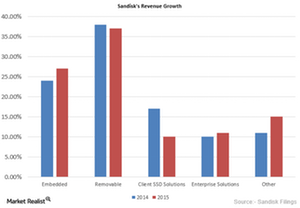 SanDisk Announced 3Q15 Earnings October 21: Reaction Is Positive
Personal computer market impacts semiconductor growth
Storage solution provider SanDisk (SNDK) announced its 3Q15 earnings on October 21, 2015. The market reaction was positive, which showed a marginal increase of 0.16% in after-hours trading.
SanDisk reported revenues of $1.4 billion compared to $1.7 billion in the same quarter last year, a decrease of 16.9%. The majority of the impact on revenue came from client solid state drive (or SSD) solutions that are being used as a storage device for computers. The company reported revenue from SSD solutions of $145 million compared to $297 million in the same quarter the previous year, a decline of 51.1%.
The market for personal computers is becoming saturated as people are using mobile devices such as smartphones and tablets more. This reduces the application of SSD in computing devices.
Article continues below advertisement
Gross margin has fallen 5.3% YoY
Despite the decline in revenue, SanDisk's cost margin remained high. For 3Q15, cost of revenue stood at $820.6 million compared to $900.8 million in the same quarter last year. The company has considered amortization of intangible assets such as a trademark for the acquisitions of Pliant Technology, FlashSoft, and other companies.
The total cost of revenue was $849.5 million compared to $929.3 million the previous year, a decrease of 8.6% on a GAAP (generally accepted accounting principles) basis. The cost of revenue on a non-GAAP basis was $815.1 million compared to $891.9 million in the same quarter the previous year.
SanDisk's gross margin has a significant impact on the cost incurred during the third quarter of 2015. Gross margin stood at 41.5% in 3Q15 compared to 46.8% in the same quarter the previous year, a decline of 5.3 percentage points.
SanDisk's connection with HP
SanDisk has announced a partnership with Hewlett-Packard (HPQ) to expand its solutions of storage devices and provide companies with memory-driven computing. The partnership between the two companies will leverage SanDisk's reRAM memory technology and HP's Memristor technology that will provide companies with enhanced data center solutions.
The Power Shares QQQ ETF (QQQ) is a portfolio of 107 stocks. The top four stocks—Apple (AAPL), Microsft (MSFT), Amazon (AMZN), and Google (GOOG)—constitute 13.0%, 7.4%, 5.1%, and 4.5%, respectively.