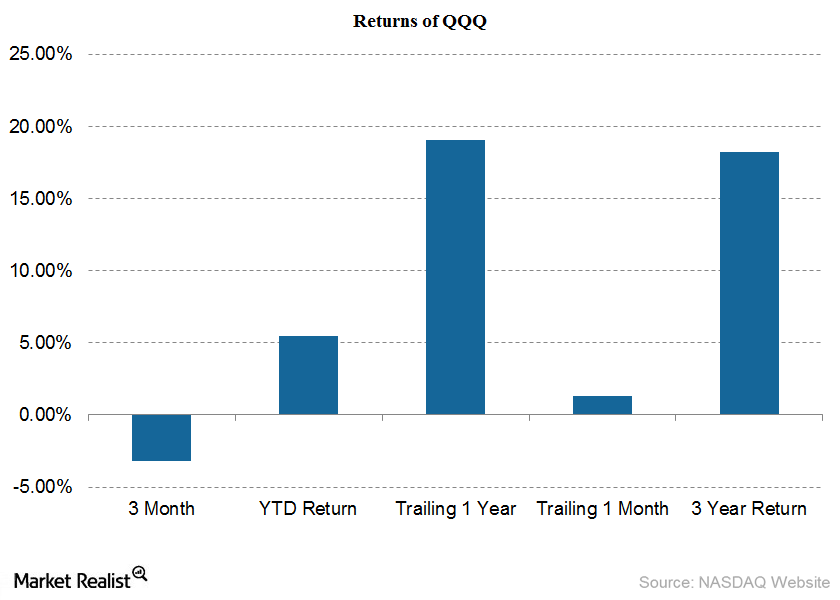 Overview of Stock Performance in PowerShares QQQ
Stock performance
In this series, we'll analyze the performance of TripAdvisor (TRIP), SanDisk, and Baidu (BIDU). All three are a part of the PowerShares QQQ, Trust Series 1 ETF (QQQ). Since January 2015, the First Trust ISE Cloud Computing Index Fund (SKYY) generated returns of ~5.8% to close at ~$29.9 on October 20, 2015. In comparison, the QQQ ETF generated YTD (year-to-date) returns of ~5.5%.
Article continues below advertisement
Article continues below advertisement
Overview
The QQQ ETF is one of the most established and liquid ETFs in the world. It invests in non-financial stocks listed on the NASDAQ. Technology comprises 60% of the ETF's overall portfolio. The ETF is an option for investors who are bullish on the tech sector but do not want t buy a 100% tech fund. It tracks the performance of 109 publicly listed companies. The market capitalization of the ETF is ~$39.7 billion.
The top five holdings of the ETF are Apple (AAPL) at ~13.1%, Microsoft (MSFT) at ~7.4%, Facebook Class A Shares (FB) at ~4.3%, Amazon at ~5.1%, and Google Class C at ~4.5%. Together, they comprise over 35% of the total portfolio. Apple comprises ~14.0% of the iShares S&P Global Information Technology Sector ETF (IXN) as well.
The QQQ ETF has an expense ratio of 0.20%, and its average daily volume of shares traded is $4.7 billion. The price-to-earnings ratio of QQQ is 18.53x whereas its price-to-book value ratio and distribution yield stand at 4.37x and 1.06%, respectively.
Stock performance
TripAdvisor, SanDisk, and Baidu have generated returns of ~24.7%, ~14.6%, and ~7.4%, respectively, in the trailing one week. In comparison, underperforming stocks in the week ending October 19, 2015, included Garmin, Netflix, and Seagate Technology. The three stocks generated weekly returns of around -7.9%, -10.4%, and -19.3% respectively.