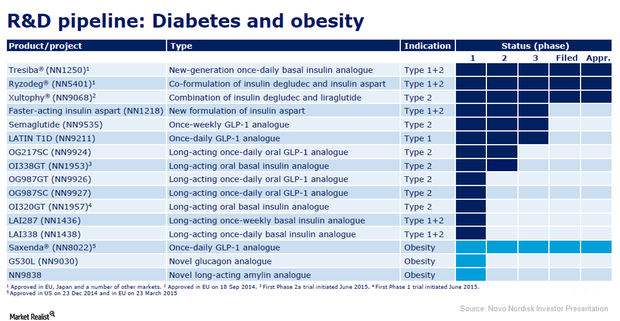 Novo Nordisk's Innovative Research and Development Pipeline
Diabetes and obesity segments
In order to expand leadership in the diabetes segment and establish a presence in the obesity segment, Novo Nordisk (NVO) is involved in several innovative research programs.
The above chart shows Novo Nordisk's research and development (or R&D) pipeline in the diabetes and obesity segments.
Article continues below advertisement
Late-stage research programs
Novo Nordisk's next-generation insulin therapies for diabetes have received positive response from the physician and patient communities. These insulin therapies include Tresiba (insulin degludec), Ryzodeg (insulin degludec and insulin aspart), and Xultophy (insulin degludec and liraglutide), which all act act longer to control blood sugar levels.
Novo Nordisk is also involved in three late-stage insulin studies, including faster-acting insulin aspart, semaglutide, and LATIN T1D.
Insulin aspart is a fast-acting insulin that lowers blood sugar levels. Novo Nordisk markets the modern insulin therapy Novolog/ NovoRapid (insulin aspart), which targets patients with type 1 and type 2 diabetes. The company is currently exploring a faster-acting insulin aspart that works faster than the normal insulin aspart.
Semaglutide belongs to the glucagon-like peptide-1 (or GLP-1) analog drug class and is targeted at treating patients suffering with type 2 diabetes by using less frequent injections. The Phase 3a trial, SUSTAIN 1, proved the efficacy of once-weekly semaglutide in type 2 diabetes patients. If this drug is approved, it will be tough competition for other GLP-1 drugs such as AstraZeneca's (AZN) Byetta and Bydureon, Sanofi's (SNY) Lixumia, and Eli Lilly's (LLY) Trulicity.
The second clinical trial of the Phase 3a program for LATIN T1D also gave favorable results. It was concluded that the use of liraglutide as an adjunct or additional therapy to insulin for type 1 diabetes leads to meaningful improvement in blood glucose control.
Saxenda has already been approved to treat obesity in Novo Nordisk's major markets and has been well received by the target patients.
Early-stage research programs
Novo Nordisk has GLP-1 analogs as well as insulin drugs in Phase 1 and Phase 2 clinical trials. It's also researching glucagon analog and amylin analog for the treatment of obesity.
Investors can get diversified exposure to Novo Nordisk's strong diabetes and obesity R&D pipeline and still avoid excessive company-specific risks by investing in the VanEck Vectors Pharmaceutical ETF (PPH). Novo Nordisk accounts for 5.05% of PPH's total holdings.