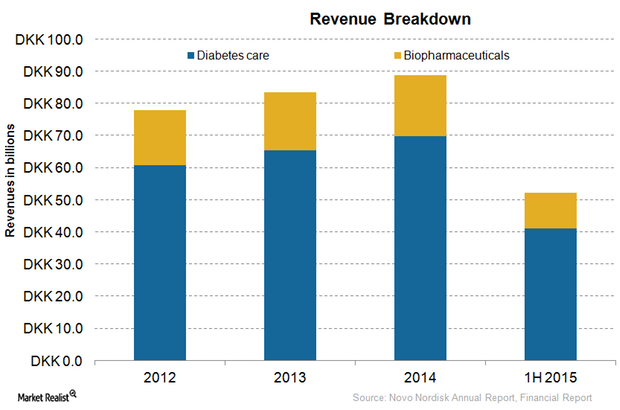 Novo Nordisk's Business Model: An Overview
Novo Nordisk's business model
Novo Nordisk (NVO) is a company with a leading portfolio in areas such as diabetes, hemophilia, and growth hormones.
In the first half of 2015, diabetes care accounted for 78.6% of Novo Nordisk's total revenues. Diabetes care involves drugs such as modern insulins, human insulins, Victoza, protein-related products, and oral anti-diabetic products. Biopharmaceutical drugs mainly include NovoSeven and Norditropin.
Article continues below advertisement
Diabetes care
According to WebMD, "Diabetes is a life-long disease that affects the way your body handles glucose, a kind of sugar, in your blood." There are two types of diabetes variants that affect patients: type 1 diabetes and type 2 diabetes. Most diabetes patients suffer from type 2 diabetes.
WebMD estimates that there are 27 million diabetes patients in the United States. With 24.4 million people around the world currently using Novo Nordisk's diabetes drugs, the company accounts for 27% of the global market share in diabetes care.
WebMD explains type 2 diabetes as follows: "Your pancreas makes a hormone called insulin. It's what lets your cells turn glucose from the food you eat into energy. People with type 2 diabetes make insulin, but their cells don't use it as well as they should. Doctors call this insulin resistance."
WebMD describes type 1 diabetes as follows: "Type 1 diabetes happens when your immune system destroys cells in your pancreas called beta cells. They're the ones that make insulin."
Insulin therapy is given to all patients suffering from type 1 diabetes and to a substantial percentage of people suffering from type 2 diabetes.
Novo Nordisk accounts for 47% of the total insulin therapy market and 46% of the modern insulin and new-generation insulin therapy market in the world. The company is also a leader in the glucagon-like peptide-1 (or GLP-1) category of drugs, which is another effective therapy for type 2 diabetes. Merck & Co. (MRK), Eli Lilly (LLY), and Sanofi (SNY) are the other major leading companies in the diabetes space.
Biopharmaceuticals
In addition to diabetes care, Novo Nordisk also offers effective bleeding disorders therapy and is a market leader in the growth hormone market.
Investors can get diversified exposure to Novo Nordisk, the global diabetes market leader, while avoiding excessive unique risks by investing in the VanEck Vectors Pharmaceutical ETF (PPH). Novo Nordisk accounts for 5.05% of PPH's total holdings.