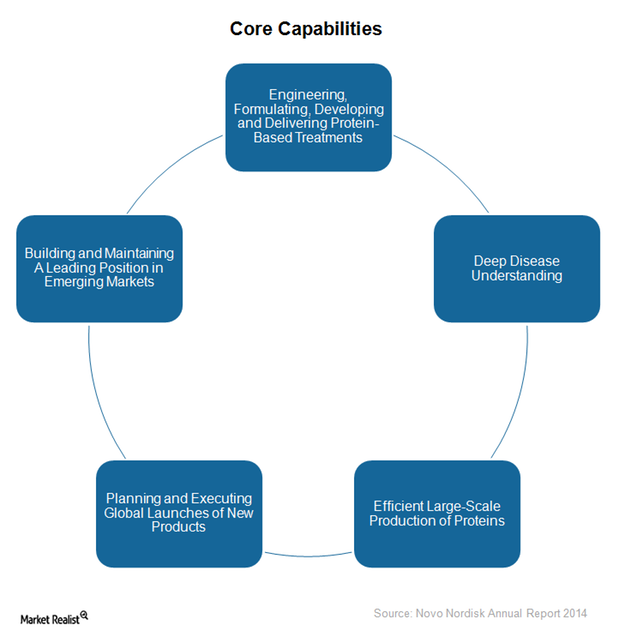 Novo Nordisk: Core Capabilities Differentiate It from Competition
Novo Nordisk's core capabilities
Novo Nordisk (NVO) aims to maintain its leadership in the diabetes and growth disorder market and strengthen its position in the hemophilia and obesity markets. To do this, the company has developed certain core capabilities that differentiate the company from its competition.
Article continues below advertisement
Protein-based treatments
Novo Nordisk has more than 7,000 employees involved in research and development (or R&D) activities and has R&D facilities in the United States, China, Denmark, and India. With strong research capabilities, the company continuously innovates to improve the properties of proteins such as insulin and glucagon-like peptide-1 (or GLP-1).
Novo Nordisk has also improvised on insulin and GLP-1 delivery mechanisms by launching injectable pen devices such as NovoPen 4, NovoPen 5, FlexPen, and FlexPen 5. Efficient drug delivery mechanisms have also been a major driver of Novo Nordisk's growth disorder business. This has enabled the company to beat peers such as Pfizer (PFE), Roche (RHHBY), and Eli Lilly (LLY) in the growth disorder segment.
Deep disease understanding
Novo Nordisk leverages its deep understanding of the medical needs related to diabetes in order to offer targeted solutions. This has helped the company maintain its leading position in the global diabetes market.
Article continues below advertisement
Efficient large-scale production of proteins
In addition to technical expertise, Novo Nordisk also has operational capability and manufacturing scale to effectively compete with its peers. The company has a high-quality, cost-efficient manufacturing infrastructure located strategically in five countries around the world. This helps the company offer treatments at substantially lower prices in developing countries.
Novo Nordisk currently manufactures Active Pharmaceutical Ingredients (or API) in Denmark and New Hampshire. It manufactures US diabetes finished products in Denmark, France, the United States, Brazil, and China.
Global launches of new products
Novo Nordisk has developed its global launch planning and execution capabilities through the launch of Victoza in multiple markets. The company is now using this skill set to launch Tresiba and other products in various markets around the world.
Leading position in emerging markets
Novo Nordisk has adopted the strategy of establishing local organizations in emerging markets and then growing organically. This helps the company develop skilled sales forces and long-term relationships in these markets that have been key growth drivers in emerging markets.
Investors can get diversified exposure to Novo Nordisk's core capabilities and control excessive risks by investing in the PowerShares International Dividend Achievers ETF (PID). Novo Nordisk accounts for 0.46% of PID's total holdings.