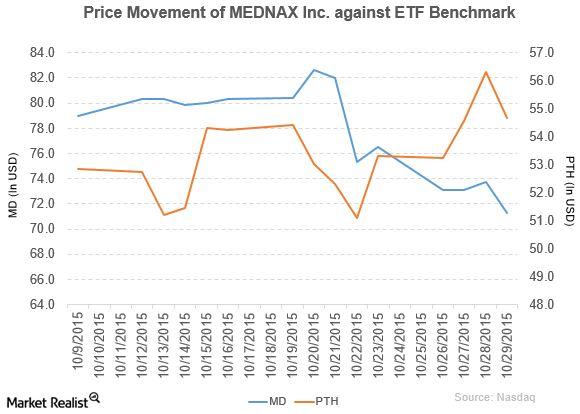 MEDNAX Revenue and Income Rose After 3Q15 Results
MEDNAX and price movement
MEDNAX (MD) has a market cap of ~$6.7 billion. MEDNAX's YTD (year-to-date) price movement was a mix of rises and falls in 2015. After the earnings report, MEDNAX fell 3.4% to close at $71.3 per share as of October 29, 2015. The price movement on a weekly, monthly, and YTD basis was -5.4%, -7.2% and 7.8%, respectively.
Article continues below advertisement
Article continues below advertisement
Trading below moving averages
Technically, the price sometimes broke the support of 20-day and 50-day moving averages in 2015. Currently, it's trading at -8.7% below the 20-day moving average, -10.9% below the 50-day moving average, and -4.9% below the 200-day moving average.
The PowerShares DWA Healthcare Momentum ETF (PTH) invests 3.9% of its holdings in MEDNAX. The ETF tracks an index of US healthcare firms selected and weighted by price momentum. The YTD price movement of the ETF was 3.7% as of October 28, 2015.
The competitors of MEDNAX (MD) and their market caps are:
Performance of MEDNAX in 3Q15
The company reported a net revenue of $722.3 million in 3Q15, a rise of 6.8% when compared to the net revenue of $676.6 million in 2Q15. The operating income rose by 0.43% in 3Q15 on a quarterly basis. The net income and EPS (earnings per share) rose to $90.6 million and $0.97 per share in 3Q15, respectively, a respective rise of 7.84% and 7.77% as compared to the net income of $84.0 million and $0.90 per share in 2Q15.
Meanwhile, cash and cash equivalents fell by 6.7%, and accounts receivables rose by 6.9% in 3Q15. The debt-to-equity ratio rose to 0.94 in 3Q15 as compared to the debt-to-equity ratio of 0.92 in 2Q15.
The company also announced the acquisition of Manassas Anesthesia Associates, Lakeshore Anesthesia Services, Millennium Anesthesia Care, Alegis Revenue Group, and New Jersey Anesthesia Associates (NJAA).
About MEDNAX
MEDNAX is a national medical group. It provides neonatal, anesthesia, teleradiology, maternal-fetal, and pediatric physician sub-specialty services.