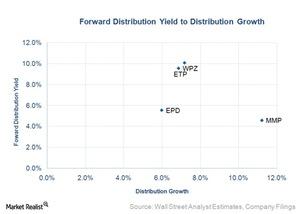 Magellan Midstream Partners' Expected Distribution Growth
By Rekha Khandelwal, CFA

Oct. 28 2015, Updated 2:04 p.m. ET
William Partners' forward yield
The forward distribution yield of an MLP is calculated by dividing its estimated one-year future distribution per unit by its market price per unit. At 10.1%, Williams Partners' (WPZ) forward distribution yield is ~350 basis points higher than the average forward yields of Enterprise Products Partners (EPD), Energy Transfer Partners (ETP), and Magellan Midstream Partners (MMP).
The announcement of the merger between Williams Companies (WMB) and Energy Transfer Equity (ETE) affected Williams Partners' unit price, pushing its forward yield higher. The MLP's low distribution coverage and high leverage also contribute to its relatively higher yield. Williams Partners forms ~0.8% of the Guggenheim Multi-Asset Income ETF (CVY) and ~4.8% of the Global X MLP ETF (MLPA).
The Alerian MLP Index (AMZ) currently trades at a yield of 7.7%. The graph below compares the forward distribution yields of the four MLPs relative to their expected distribution growth.
Article continues below advertisement
Expected distribution growth
Over the next two years, Magellan Midstream Partners' expected distribution growth is 11.2%. In comparison, Enterprise Products Partners, Energy Transfer Partners, and Williams Partners are expected to have distribution growths of 6%, 6.9%, and 7.2%, respectively. Magellan Midstream Partners' relatively low forward yield is likely justified by its higher expected distribution growth.
Magellan Midstream Partners has recorded stable growth in key metrics discussed in the series. It also posted the highest quarter-over-quarter distribution growth among its peers in 2Q15.
What lies in the future for our MLP titans?
The above table summarizes key metrics for the four MLPs discussed in this series. The environment for MLPs remains challenging. However, Enterprise Products Partners' announcement of a distribution increase in the third quarter of 2015 sheds a different light on the situation. As we discussed in the series, three of the four MLPs managed to increase distributions in the latest quarter. They also increased growth capital investments, indicating existing opportunities in the sector.
With the exception of Williams Partners, the MLPs' coverage ratios and leverage levels remain at comfortable levels. While volatility will likely persist or increase in the short-run, the long-term prospects for the biggest and stable MLPs should be bright.