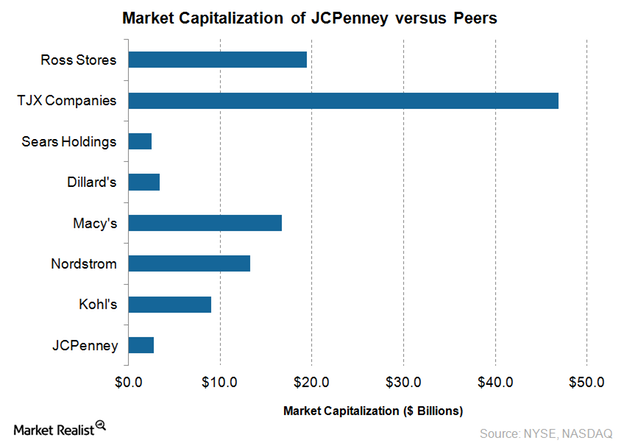 JCPenney: Insight into Its Roller Coaster Journey
JCPenney-an introduction
JCPenney (JCP) is one of the prominent names in the US department store industry. The company derives its revenue from the sale of a wide assortment of apparel, accessories, footwear, fine and fashion jewelry, beauty products, and home furnishings. JCPenney's department stores also provide services such as styling salon and custom decorating. Based in Plano, Texas, JCPenney has about 1,020 stores in the US across 49 states and Puerto Rico.
Article continues below advertisement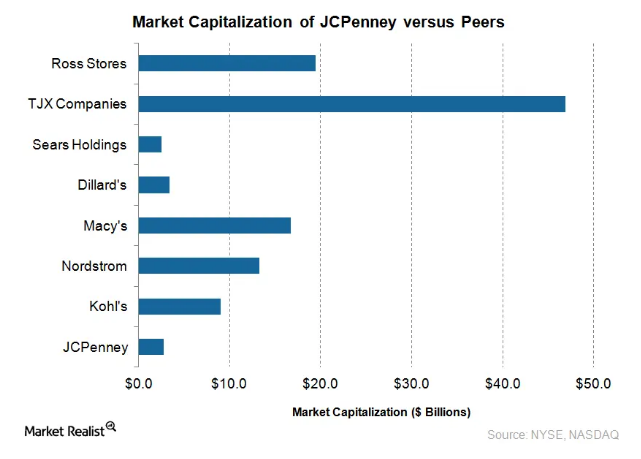 Brief history
JCPenney was founded in 1902 by James Cash Penney. In that year, Penny opened the first store in partnership with Guy Johnson and Thomas Callahan under a small chain of stores called Golden Rule. After the opening of two more stores, the partnership was dissolved in 1907, and Penney purchased full ownership in all the three stores. Penney expanded the business to 34 stores, which generated over $2 million in sales by 1912. In 1913, the Golden Rule name was replaced with J.C. Penney Company, Inc. The company's sales surpassed the one billion dollar sales mark in 1951.
One of the features that made JCPenney very famous was its catalog business, which was first launched in 1963. The company exited this business in 2010. However, JCPenney relaunched its home catalog in 2015. JCPenney launched its online retail site in 1998.
The company also dabbled in the drugstore business. In 1996, JCPenney acquired Eckerd Corporation to further expand its thrift drugstore business. This and other drugstore acquisitions proved to be a distraction to JCPenney and the company sold its drugstore chain in 2004.
Article continues below advertisement
The company has been through several ups and downs over past few decades due to unfavorable macro conditions and intense price competition. However, the decline since 2011 can be associated with the period in which Apple's (AAPL) former retail stores head Ron Johnson took over as JCPenney's CEO. We will discuss the impact of his strategy in part 3 of this series.
Competitive landscape
JCPenney primarily competes with mid-tier and upscale department stores as well as off-price retailers. As of September 29, 2015, the company's market capitalization was $2.8 billion. JCPenney constitutes ~0.1% of the portfolio holdings of the Vanguard Consumer Discretionary ETF (VCR). The market capitalization of its department store peers as of September 29, 2015, was:
The market capitalization of off-price retailers TJX Companies (TJX) and Ross Stores (ROST) was $46.9 billion and $19.4 billion, respectively, as of September 29, 2015.
Series overview
This series on JCPenney will provide insight into the company's business and its turnaround strategy, key growth initiatives, stock price movement, and valuation.