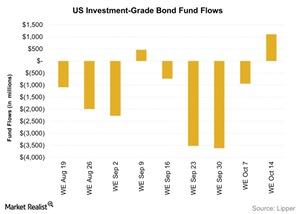 Investment-Grade Bond Funds Witness Inflows
Investor Flows
Flows into investment-grade bond funds were positive for the week ending on October 14 after witnessing four consecutive weeks of outflows. Investment-grade bond funds saw net inflows of ~$1.1 billion during the week. This was compared to outflows amounting to $941 million in the week ended October 7.
Article continues below advertisement
 Details
Investment-grade bond funds have seen year-to-date (or YTD) net inflows of $13.61 billion up to October 16, 2015.
Investment-grade bond issuance surged up last week to $32.5 billion compared to $26.6 billion in the previous week. In the week ending October 16, Goldman Sachs (GS), Fidelity National Information Services (FIS), Bank of America (BAC), BHP Billiton Finance—a subsidiary of BHP Billiton Limited (BHP)—and Mizuho Bank Limited—a subsidiary of Mizuho Financial Group (MFG)—were among the biggest issuers of investment-grade bonds. You can read the details of some of these issues in the fourth part of this series.
Yield and spread analysis
Investment-grade bond yields usually follow cues from the Treasuries market. Treasury yields fell across the yield curve week-over-week. Investment-grade corporate bond yields took cues from the Treasury securities and fell as well.
Yields were down by seven basis points from the previous week and ended at 3.34% on October 16, according to the BofA Merrill Lynch US Corporate Master Effective Yield.
Due to the fall in yields, weekly returns of the Prudential Total Return Bond Fund (PDBAX) grew by 0.33%.
The option-adjusted spread fell one basis point to end at 1.72% on October 16. The option-adjusted spread measures the average difference in yields between investment-grade bonds and Treasuries. Thus, the fall in this spread implied that the risk of high-grade bonds relative to Treasuries also fell.
For more analysis on the topic of mutual funds, please visit Market Realist's Mutual Funds page.