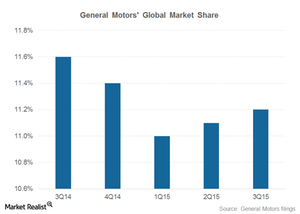 General Motors Loses Market Share and the Markets Don't Care
Competition between automakers
For years, automakers have been trying to grow their market shares. The last two decades have seen a big churn in the automotive industry. First, Toyota (TM) took the leading automaker position from General Motors (GM). Now, the biggest automobile company position lies with Germany-based Volkswagen (VLKAY). In this part of the series, we'll analyze how GM's market share progressed in 3Q15.
Article continues below advertisement
3Q15 performance
General Motors's global market share in 3Q15 was 11.2% as compared to 11.4% in the corresponding quarter last year.
In North America, General Motors captured 16.6% of the market share in 3Q15. The company commanded a market share of 16.8% in the corresponding quarter last year. GM still commands a leadership position in terms of market share in North America. Ford (F) has the second-highest market share in the region.
In Europe (IEV), General Motors's market share fell to 6.3% from the 6.5% share it had a year ago.
General Motors's market share in South America was 14.1% in 3Q15, down from 16.4% in 3Q14.
The company's market share in Asia-Pacific, the Middle East, and Africa also fell to 10.2% in 3Q15 as compared to 10.5% a year ago.
Does it matter?
Market share seems to have lost relevance for the markets. If it were more relevant, General Motors would likely not have risen so sharply after its earnings release. After all, the company has lost market share in each and every market that it serves. This includes a drop in North America. However, GM seems to be gaining where it matters more. We'll discuss more on this in the next part of this series.