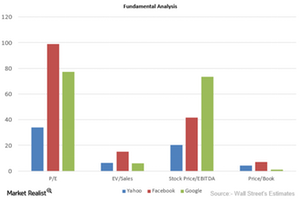 A Fundamental Analysis on Yahoo! and Its Peers
By Parker Thomas

Updated
Yahoo and Google's tie-up
In this article, we'll draw a fundamental analysis on Yahoo's close competitors. Yahoo's major sources of earnings are from its search engine and advertisement. Yahoo is facing close competition from its peer Google as both companies are attempting to drive end-users to their respective web portals, in turn raising the number of their active users. Yahoo reported in its 3Q15 earnings about the partnership with Google that allows Yahoo to choose among suppliers of search results and ads. Our analysis here includes Facebook, whose major source of revenue comes from advertisement as well.
Article continues below advertisement
Fundamental analysis
The above chart represents the key ratios that indicate the financial health of a firm and its performance compared to peers. The PE (or price-to-earnings) ratio indicates what price the investors need to pay for every dollar earned. The lower the ratio the better it is. Yahoo shows the lowest PE of ~34.0 compared to Facebook and Google at ~99.0 and ~77.3, respectively. A high PE ratio indicates that the company is expected to grow at a higher rate in the future than the company with a lower PE ratio.
Enterprise value (shortened as EV) is a strong indicator for a company's valuations. EV is considered accurate because it does not take into considering the debt part that needs to pay back in the future. The lower the EV/Sales (or enterprise-value-to-sales), the more attractive or undervalued the company is believed to be. Google shows the lowest EV/Sales of 6.04, followed by Yahoo and Facebook at 6.45 and 15.10, respectively.
EBITDAEBITDA[1. earnings before interest, taxes, depreciation, and amortization] is the measure of cash flows from operations, and doesn't take into account the capital structure followed by the company. It simply gives the company's profitability from its core operations. A lower ratio here indicates that investors are paying less for the more profitable company. Yahoo shows the lowest ratio of 20.44, followed by Facebook and Google at 41.49 and 73.44, respectively.
The price-to-book ratio indicates how the investors are interpreting the company. A higher ratio indicates that investors have high expectations for the company's growth. Facebook shows the highest price-to-book ratio of 6.91, compared to Yahoo and Google at 4.16 and 1.10, respectively.
The First Trust ISE Cloud Computing Index Fund (SKYY) is a portfolio of 36 stocks, where Amazon (AMZN), Netflix (NFLX), Facebook (FB), and Google (GOOG) constitute 4.98%, 4.54%, 4.54, and 4.52%, respectively, of total holdings.