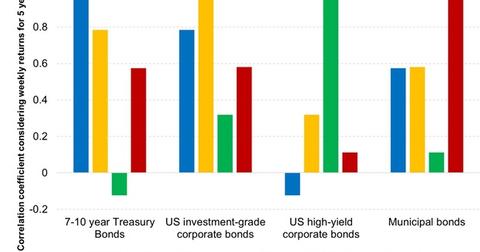 Own Bonds across Credit Quality to Diversify Your Portfolio
By Heather Pelant

Updated
Simply a mix of individual company stocks and corporate and government bonds, however, may not give you everything you need to best manage risk and return. A balanced portfolio could also include a variety of nutrients and flavors.
Article continues below advertisement
Four Traits of a Balanced Portfolio
Quality
For your bond portfolio, you'll want to consider diversifying across credit quality—such as Treasuries, investment grade and high yield—each of which has a unique risk/return profile. For stocks, you may want to focus on the quality of a company's balance sheets and evaluate factors such as dividend growth, earnings or management.
Market Realist – You should own bonds across credit quality in order to diversify your bond portfolio.
The graph above shows the correlation of 7–10 year Treasuries (IEF), investment-grade corporate bonds (LQD), high-yield corporate bonds (HYG), and municipal bonds (MUB) with one another. It considers the weekly returns over the last five years. All of these are different classes within bonds. They tend to move differently.
Treasuries and IG (investment grade) corporate bonds have a correlation of +0.78. This is because, while IG corporate bonds aren't as safe as Treasuries, they're relatively safe and contain only a small amount of credit risk. The correlation between Treasuries and high-yield bonds is -0.12. This is because high-yield bonds (JNK) contain a high amount of credit risk and tend to behave like equities. Both equities and high-yield bonds outperform Treasuries as the business cycle improves. The correlation between IG corporate bonds and high-yield bonds is +0.32.
Municipal bonds also add diversification to your bond portfolio. The correlation of municipal bonds with Treasuries and IG bonds stands at 0.57 and 0.58, respectively. The correlation between municipal bonds and high-yield bonds is 0.11.
As a result, adding bonds across credit classes helps diversify your bond portfolio. The weight of each category depends on your risk appetite and the business cycle.