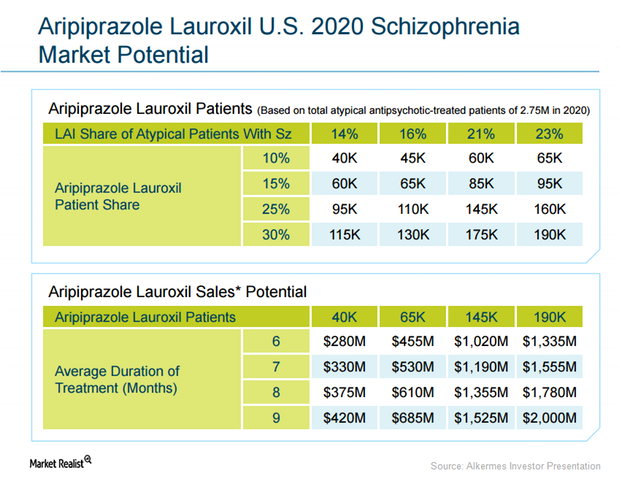 Alkermes's Aristada and Its FDA Approval for Schizophrenia
Aristada's FDA approval
On October 6, 2015, the FDA (Food and Drug Administration) approved Alkermes's (ALKS) injectable drug, Aristada (Aripiprazole Lauroxil), for patients suffering from schizophrenia. According to WebMd, schizophrenia is "a serious brain disorder that distorts the way a person thinks, acts, expresses emotions, perceives reality, and relates to others."
WebMd also states that "people with schizophrenia—the most chronic and disabling of the major mental illnesses—often have problems functioning in society, at work, at school, and in relationships." Schizophrenia can leave "its sufferer frightened and withdrawn" and is "a life-long disease that cannot be cured but can be controlled with proper treatment."
The WHO (World Health Organization) estimates that there are 21 million people in the world suffering from schizophrenia.
Article continues below advertisement
Article continues below advertisement
Aristada market opportunity
Alkermes has already projected the sales potential of Aristada by 2020. According to pharmaceutical research firm Encuity Research, in 2014, 2.4 million US schizophrenia patients were treated with atypical antipsychotics. It is expected that 2.75 million U.S. schizophrenia patients will be using these medicines by 2020.
WebMd describes antipsychotic medicines as drugs that "help stabilize certain brain chemicals called neurotransmitters, which control emotions and behavior," specifying that "balancing these brain chemicals may help you avoid impulsive and reckless behaviors." Atypical antipsychotics are chemically different from older antipsychotic drugs and result in different side effects in patients.
Atypical antipsychotics market
Additionally, estimates from IMS Health, Encuity Research, Truven Marketscan Treatment Pathways, and the Medicaid database (August 2013–July 2014) concluded that, in 2014, approximately 210,000 schizophrenia patients were treated with LAI (long-acting injectable) atypical antipsychotics in the US.
More specifically, in 2014, 9% of the total number of schizophrenia patients in the US who are currently using atypical antipsychotic drugs used LAI atypical antipsychotic drugs. By 2020, this market share is expected to be in the range of 14% to 23%.
Aristada is projected to account for 10% to 30% of the LAI atypical antipsychotic market for schizophrenia patients in the US.
Antipsychotic drugs by comparison
Currently, LAI antipsychotic drugs are used for an average duration of six months. The company has assumed that the price of the drug will be set at $1,170 per month, which is equivalent to other major schizophrenia drugs such as the Otsuka/Lundbeck Alliance's Abilify Maintena, Novartis AG's (NVS) Clozaril, Pfizer's (PFE) Geodon, and Johnson & Johnson's (JNJ) Invega Sustenna (through its subsidiary Janssen Pharmaceuticals).
Based on these estimates, Alkermes projects that, by 2020, the drug will earn revenues in the range of $280 million to $2 billion.
You can get exposure to Alkermes's new schizophrenia drug, Aristada, while avoiding excessive company-specific risks by investing in the iShares Nasdaq Biotechnology ETF (IBB). Alkermes accounts for 1.45% of IBB's total holdings.
Read the next part of this series for a further analysis of Aristada's efficacy.
Correction: This post originally claimed that Abilify Maintena belonged to Bristol-Myers Squibb. We have since revised to indicate that it belongs to the Otsuka/Lundbeck Alliance. We regret this error.