Verizon Sees Demand for Skinny Bundles
Verizon launched its Custom TV service in April. A skinny bundle service, it gives more choices to customers, allowing them to select their TV channels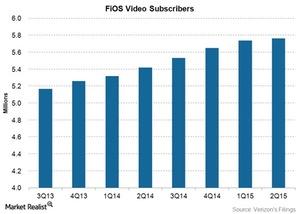 Verizon on skinny bundles
In the earlier parts of the series, we learned that FiOS, Verizon's (VZ) fiber-optic service, is a key growth driver of the telecom company's wireline division. FiOS is similar to AT&T's (T) U-verse, and both services are comparable to those offered by cable companies such as Comcast (CMCSA). During the Goldman Sachs Communacopia Conference held September 17, 2015, Lowell McAdam, Verizon's CEO (chief executive officer) and chairman, highlighted a key trend he is observing in the video space, stating that "well, there's clearly a pent-up demand to get away from 300 channel bundles and there's two ways I think you can do that."
He added, "one is through the skinny bundles, the custom TV that we launched. Right now about 30% to 40% of our adds are coming in on the skinny bundle, so that shows you customers want that kind of service."
Article continues below advertisement
Article continues below advertisement
Verizon's Custom TV
Verizon launched its Custom TV service in April. It gives more choices to customers, allowing them to select their TV channel bundles. During 2Q15, Verizon's new Custom TV witnessed robust subscriber growth. According to the telecom company, more than one-third of gross subscriber additions to FiOS' video services in that quarter originated from this new service.
Consumers prefer channel bundles
According to a Reuters report, citing results from a Reuters/Ipsos poll, only 23% of Americans prefer bundles to the option of choosing individual channels and paying for those. The poll was conducted online with 1,680 adults from May 1, 2015 to May 6, 2015.
Instead of taking on direct exposure to Verizon's stock, you can get diversified exposure to Verizon by investing in the SPDR S&P 500 ETF (SPY). The ETF held ~1.1% in the telecom company as of August 31, 2015.
Alternatively, you may consider the iShares MSCI USA Minimum Volatility ETF (USMV). The ETF held ~1.4% in the telecom company at the end of August.