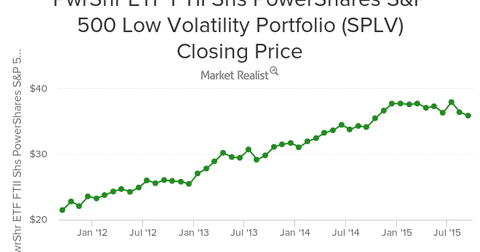 Understanding the Investment Strategy of SPLV
By Ivan Kading

Updated
SPLV and USMV have similar investment approaches
The PowerShares S&P 500 Low Volatility Portfolio (SPLV) is a smart beta ETF managed by PowerShares. It seeks to match the investment result of the S&P 500 Low Volatility Index. According to the prospectus of the fund, "Volatility is a statistical measurement of the magnitude of up and down asset price fluctuations (increases or decreases in a stock's price) over time."
High volatility stocks are very aggressive in movement and are a likely choice for investors who are risk takers. Low volatility stocks, on the other hand, don't experience significant price changes and therefore have less risk. SPLV's index creates a portfolio of 100 stocks from the S&P 500 (SPY) that have minimum volatility and less risk. The primary agenda here is to identify those stocks that involve low risk but still have the capability to provide capital appreciation in the long run. A similar investment strategy is followed by the iShares MSCI USA Minimum Volatility ETF (USMV).
[marketrealist-chart id=660079]
Article continues below advertisement
SPLV's holdings
SPLV is majorly invested in its Financials, Consumer Staples, and Industrials sectors. Its top five holdings are Plum Creek Timber (PCL), Marsh & McLennan (MMC), Verizon Communications (VZ), XL Group (XL), and PepsiCo (PEP). It currently manages a total portfolio of $4.48 billion distributed over 100 stocks. It has a net expense ratio of 0.25%. The fund also follows a concentration policy that technically allows it to invest more than 25% of its net assets in a single particular industry or sector. The Financials sector holds the largest chunk of SPLV's portfolio, constituting 34.69% of the fund.
Difference between SPLV and USMV
SPLV and USMV follow the same investment strategy for stock selection. One major difference between them is that SPLV's index includes only 100 stocks in its portfolio, whereas USMV has no such constraint. USMV currently manages a total portfolio of 163 stocks, which increases and decreases every day. SPLV maintains constant holdings of 100 stocks only.
We will explore the performance of SPLV and USMV in the next part.