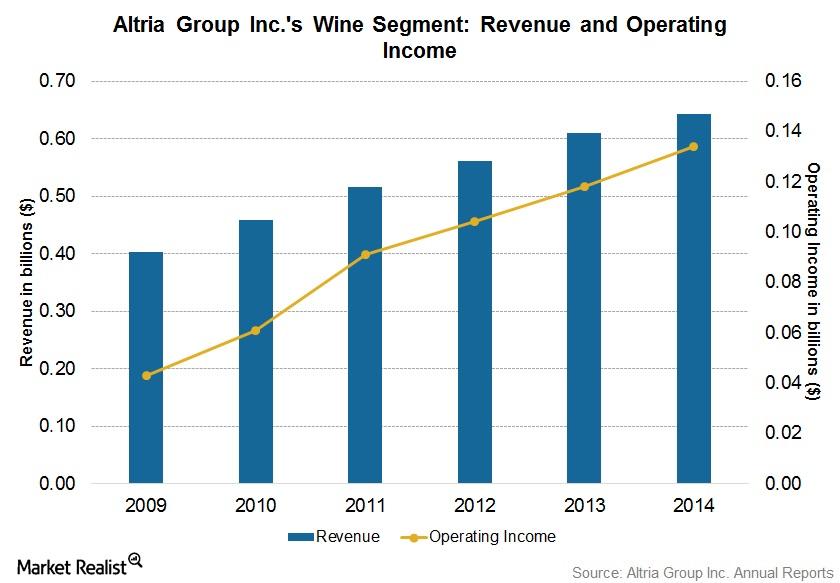 Understanding Altria's Wine Business Segment
Ste. Michelle's overview
Altria Group's (MO) subsidiary Ste. Michelle is a leading producer of Washington state wine and represents another of Altria's product segments. Ste. Michelle owns wineries and distributes wines in several other wine regions and foreign countries.
Unlike Altria's tobacco segment, which is domestic in nature, Altria's wines are distributed internationally. Chateau Ste. Michelle, Columbia Crest, and 14 Hands are a few of the wine brands produced by Ste. Michelle.
Article continues below advertisement
Revenue and operating income
Altria's wine segment's net income, including wine excise tax, increased by 5.6% to $0.64 billion in 2014, compared to $0.61 billion in 2013. The increase was primarily due to a 4.8% increase in shipment volume, which was driven by higher volumes of 14 Hands and Chateau Ste. Michelle.
Ste. Michelle holds 85% ownership in Michelle-Antinori, which owns Stag's leap Wine Cellars, Conn Creek in Napa Valley, and Erath in Oregon.
Ste. Michelle's wine is subject to significant competition from large, well-established domestic and international companies, as well as from many smaller wine producers. However, tobacco peers neither Reynolds American (RAI), Japan Tobacco (JAPAF), British American Tobacco (BTI), nor Vector Group (VGR) have a presence in the wine segment. This indicates that Altria has a greater portfolio diversification than its peers, which may also provide a competitive advantage.
The wine segment's operating income increased by 13.6% to $0.13 billion in 2014, compared to $0.12 billion. The increase was primarily due to higher pricing and improved premium mixes.
Expansion
Ste. Michelle imports and markets wine brands that include Antinori, Torres and Villa Maria Estate wines, and Champagne Nicolas Feuillatte in the US. This subsidiary plans to expand the distribution of its domestic wines to restaurants, wholesale clubs, supermarkets, wine shops, and mass merchandisers. It also plans to focus on improving product mixes by favoring higher-priced, premium products.
Altria (MO) and Reynolds American (RAI) have exposure in the Consumer Staples Select Sector SPDR ETF (XLP), with 5.3% and 1.2%, respectively, of the total weight of the portfolio as of September 2, 2015.
In the next part of this series, we'll look at Altria Group's Nu Mark subsidiary.