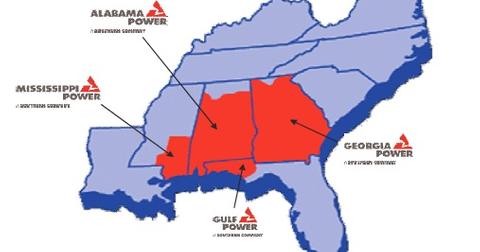 Southern Company Is a Diversified Utility Company
By Pearl Adams

Updated
A diversified utility company
As we described in the last part, Southern Company (SO) is a holding company of the following regulated power utilities (XLU):
Alabama Power
Georgia Power
Gulf Power
Mississippi Power
Apart from these regulated utilities, Southern Company also owns subsidiaries that operate in the unregulated segment. A brief description on each of the subsidiaries of Southern Company is provided below.
Article continues below advertisement
Southern Power
Southern Power is a wholesale energy provider in the US. Currently, the company owns or has the right to own 24 facilities—either operating or under construction—with a power generating capacity of more than 9,400 MW (megawatts). Lately, Southern Power is doing a lot of acquisitions in the renewable energy space to diversify its energy mix. It has acquired a majority stake in some solar plants from Tradewind Energy and First Solar (FSLR).
Southern Company Services
Southern Company Services is an entity that provides shared services like administrative and operational services to all of the subsidiaries and group companies of Southern Company. It also provides engineering services to group companies.
Article continues below advertisement
SouthernLINC Wireless
SouthernLINC Wireless is a regional wireless communications network provider in the southeastern part of the US. It provides reliable service to a wide range of businesses and consumers. It has a coverage of 127,000 square miles. SouthernLINK Wireless is a regional iDEN carrier that's a mobile telecommunications technology developed by Motorola (MSI). SouthernLINC is setting up a 4G LTE 800 MHz (megahertz) network. It has selected Ericson (ERIC) as the sole infrastructure vendor.
Southern Nuclear
Southern Nuclear is the nuclear power generating entity of Southern Company. The company operates six nuclear reactors located at the following three plants:
Joseph M. Farley Nuclear Plant located in Dothan, Alabama
Edwin I. Hatch Nuclear Plant located in Baxley, Georgia
Alvin W. Vogtle Electric Generating Plant located in Waynesboro, Georgia
According to the recent updates, two additional units are being built at the Vogtle Plant.
Southern Telecom
Southern Telecom is a telecommunications subsidiary of Southern Company. It provides dark fiber optic solutions to various businesses in enterprise private networks, data storage, back-up, and disaster recovery. The company has installations of 1,300 route miles in the southeastern part of the US.