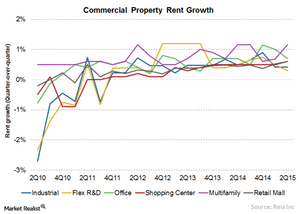 The Rise in Commercial Property Rent Is Beneficial to REITs
By Peter Barnes

Sep. 28 2015, Updated 9:07 a.m. ET
Rising rents
The data from Reis shows that rent increased 0.4% for industrial properties in 2Q15, unchanged from the previous quarter, but lower than the 0.5% 2Q14 growth. In fact, the growth rate for 1Q15 and 2Q15 slowed down and dropped to the lowest level since 2Q13. This is despite the strong demand for industrial space. The rise in industrial rent is expected to boost the profitability of industrial REITs such as Prologis (PLD) and DCT Industrial Trust (DCT). PLD forms 3.65% of the SPDR DJ Wilshire REIT ETF (RWR).
Article continues below advertisement
Retail and shopping center are shining
The rent growth for flex R&D (flexible research and development) space was down to 0.3% in 2Q15 compared to 0.5% in 2Q14. Flex R&D rent growth has seen a decline for three consecutive quarters now and is at its lowest since 4Q13. Similarly, office property rentals also reported a decline in growth to 0.7% in 2Q15 compared to 1% in the previous quarter, while they remained flat on a YoY basis. Office property rentals have now been up for 19 consecutive quarters. The continuous rise in office property rentals is likely to boost the bottom line of office REITs such as Boston Property (BXP) and SL Green Realty (SLG).
Retail, shopping center, and multifamily properties also reported continued momentum in rental growth. Retail and shopping center properties reported rental growth of 0.6% each compared to 0.4% and 0.5%, respectively, in 2Q14. This is the best-ever performance by the retail mall segment since the property market crash. For shopping center REITs, this is the highest rental growth since 3Q13.
The multifamily rental market seems to be entirely in favor of landlords, as the rents are continuously rising and are now pinching tenants. The multifamily rental reported a growth of 1.2% in 2Q15 unchanged compared to 2Q14. Since 2010, multifamily properties haven't declined on a quarter-over-quarter basis.
Higher rents are beneficial to REITs
The rise in economic fundamentals led to the strong business activities, which create higher demand for commercial properties. In addition, lower turnover and construction delays due to issues such as labor shortages also helped grow rents. Higher rent is beneficial to REITs, as they depend on rental income for their operation. In a rising rent scenario, REITs can expect to receive a higher income stream bolstering their profitability.
Next, we will look at how rising construction costs affect REITs.