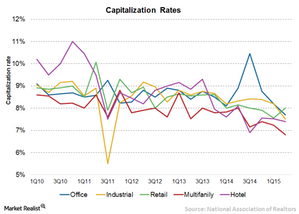 REIT Capitalization Rates Fall as Prices Surge
Capitalization rates
According to data from the NAR (National Association of Realtors), average capitalization rates, or cap rates, in 2Q15 fell to 7.5% across all the property types compared to 8.35% in 2Q14. Apartments, which have experienced a sharp rise in prices recently, recorded the lowest cap rate at 6.8%. Hotel properties recorded the lowest average cap rates in the past three quarters at 7.4%, while retail properties reported the highest cap rate of 8%. Office and industrial spaces posted cap rates of 7.7% and 7.5%, respectively.
Article continues below advertisement
Defining cap rates
The cap rate is an important concept in the commercial real estate industry. It is defined as an initial yield on a real estate investment. It is calculated as an annual net operating income (or NOI) from the property divided by an acquisition cost of that property or its current market value. Net operating income is computed by deducting operating expenses from the gross operating income. Operating expenses can be property taxes, maintenance costs, and salary, among others.
Implications for REITs
In one way, the decline in cap rates is positive for REITs such as Simon Property Group (SPG), Public Storage (PSA), Ventas (VTR), and Boston Properties (BXP), as it means higher valuation for their assets. Investors are willing to pay more for what the properties can generate. Property prices and cap rates are inversely related.
On the other hand, the lower cap rate means a higher payback period for the amount invested by REITs in acquiring property assets. Lower cap rates also mean REITs have to invest a higher amount for acquisition of low-yielding property assets. Unless cap rates fall further or net operating income changes, real estate investors are looking at lower future returns than they would have gotten if they had invested a few quarters back.
Investors looking for exposure in commercial real estate can invest in REIT ETFs. Simon Property Group (SPG) forms 8.16% of the Vanguard REIT ETF (VNQ).
In the next part of the series, we will discuss the rise in commercial property rent and how it positively affects REITs.