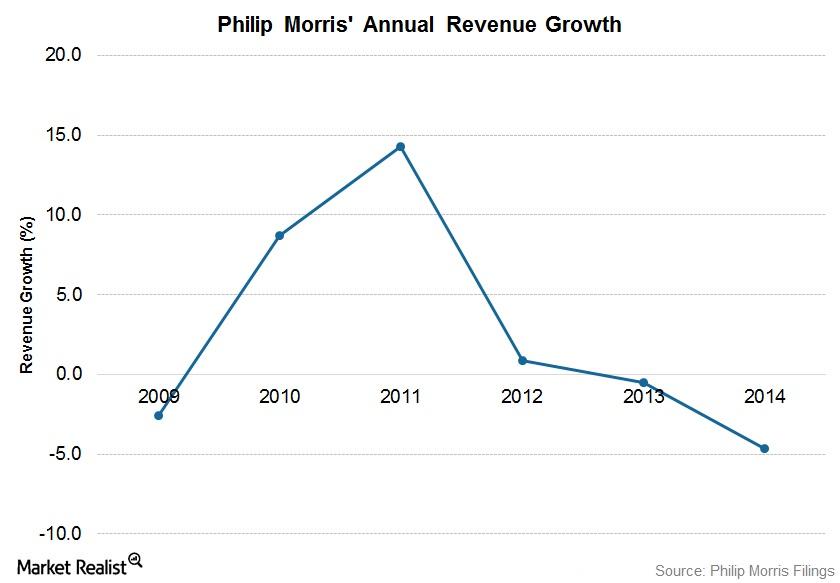 The Future Growth of Philip Morris International
By Penny Morgan

Nov. 20 2020, Updated 12:43 p.m. ET
Revenue growth
Philip Morris International (PM) is a leading tobacco and cigarette manufacturing company whose famous brands include Marlboro, L&M, Chesterfield, and Lark. But adverse currency impacts and lower cigarette shipment volumes in Russia, Ukraine, Japan, and Mexico have led to a 4.6% decline in revenue growth in 2014, compared to 2013.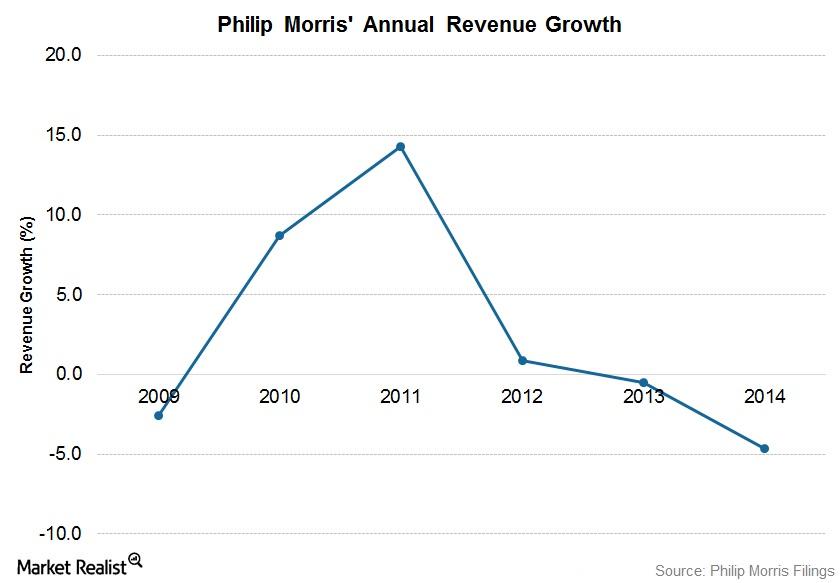 Philip Morris's continued growth will depend on investments in new capabilities, brands, distribution channels, technologies, and presence in both emerging and mature geographic markets.
Article continues below advertisement
Expansion in emerging markets
The tobacco industry is highly concentrated, with only a few dominant international players like British American Tobacco (BTI), Reynolds American (RAI), and Japan Tobacco (JAPAF) competing with Philip Morris. As the industry struggles with declining smoking rates, higher sales taxes, and stricter regulations in mature markets, developing economies have come to offer relatively better prospects.
Growing populations and rising disposable income in emerging markets are a top-down growth catalyst for this industry, and so Philip Morris has been capitalizing on the growth potential of tobacco alternative products through aggressive and innovative product initiatives.
As we saw earlier in this series, the company is developing a strong portfolio of RRPs (reduced-risk products) to offset the impact of volume declines of traditional cigarettes. For example, the company launched iQOS in Japan in November 2014, and the product is now available in flagship stores and from almost 1,000 retailers. iQOS was also launched in Italy, where the company aims to distribute this product in 430 retail outlets.
High margin mature economies
Philip Morris is also geographically diverse, which acts as a key growth catalyst. The company has exposure in emerging economies that offer huge growth potential, as well as in developed economies that have already high margins.
Meanwhile, tobacco companies have been buying smaller e-cigarette companies in an attempt to tap into the growing e-vapor and cigarette alternatives market. Philip Morris's acquisition of Nicocigs not only expanded the market in e-cigarettes but also opened doors for expansion in a mature market like the UK. Following this, Imperial Tobacco (ITYBY) also bought blu eCigs from Reynolds American (RAI).
Philip Morris has exposure in the iShares S&P 100 ETF (OEF), with 1.1% of the portfolio's total weight as of August 25, 2015.
To read more industry updates and analysis please visit our Consumer Products Page.