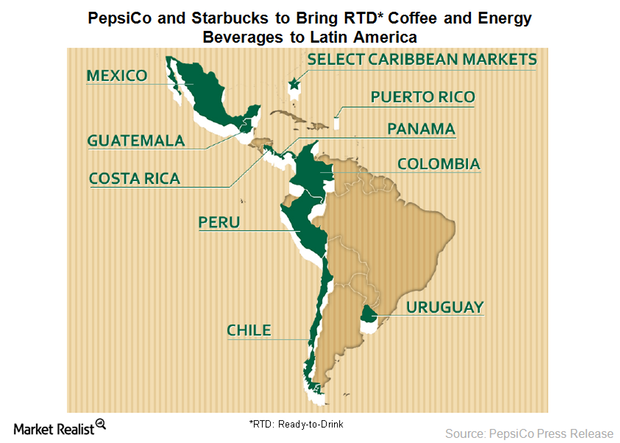 PepsiCo Partners with Starbucks to Seek Growth in Latin America
Partnership with Starbucks
In 2016, PepsiCo (PEP) will market and distribute Starbucks (SBUX) ready-to-drink, or RTD, coffee and energy beverages in select Latin American markets. Initially, the ten Latin American markets will include certain Caribbean markets, Chile, Colombia, Costa Rica, Guatemala, Mexico, Panama, Peru, Puerto Rico, and Uruguay.
PepsiCo plans to further expand the distribution of Starbucks's RTD beverages, which includes popular products such as Starbucks's Frappuccinos, Doubleshots, and Refreshers.
Article continues below advertisement
Opportunities in Latin America
The partnership between PepsiCo and Starbucks will help both companies to capture growth opportunities in the nonalcoholic beverage business in Latin America. Latin America is a crucial region for Starbucks as it supplies over half of the 400 million pounds of high-quality Arabica coffee that Starbucks purchases every year. According to Euromonitor, the ready-to-drink coffee and energy business in Latin America was worth $4 billion in 2014 and is expected to grow by 22% over the next five years.
Still (noncarbonated) beverages such as ready-to-drink coffee are gaining traction all over the world. In the first half of fiscal 2015, ended July 3, 2015, Coca-Cola (KO) reported a 1% growth in its unit case volume in Latin America, driven by a 3% growth in still beverages volume. However, the volume of sparkling beverages was unchanged in 1H15 in Latin America on a year-over-year basis. The volume of Dr. Pepper Snapple's (DPS) Latin American beverage segment increased by 10% in 1H15. Until 1H15, PepsiCo included its Latin America beverage business under the North America Beverages, or NAB, segment. The volume of the NAB segment was unchanged in 1H15 from the comparable period of the previous year.
Coca-Cola, PepsiCo, and Dr. Pepper Snapple together account for 1.9% of the portfolio holdings of the iShares S&P 500 Growth ETF (IVW) and 0.9% of the iShares MSCI ACWI ETF (ACWI).
Existing partnership
PepsiCo and Starbucks formed the North American Coffee Partnership, or NACP, joint venture back in 1994 to grow in the RTD coffee category in the region. According to research company IRI's data for multi-outlet and convenience stores, the NACP had a ~97% market share in RTD coffee in the United States as of June 14, 2015.
This new partnership in Latin America will further strengthen ties between the companies. Starbucks has had a retail presence in Latin America since 2002. It will now be able to leverage the distribution network of PepsiCo to grow further in the region.
For more updates, visit our Nonalcoholic Beverages page.