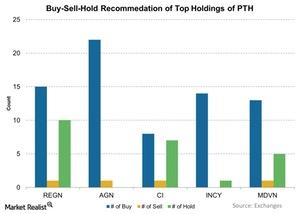 An Overview of PTH Holdings
By Ivan Kading

Sep. 17 2015, Updated 9:30 a.m. ET
PTH: Focused on the healthcare sector
The PowerShares DWA Healthcare Momentum ETF (PTH) is a smart beta ETF that invests in stocks exhibiting relatively high momentum in comparison to their peers. PTH invests the majority of its assets in the components of its index, the Dorsey Wright Healthcare Technical Leaders Index.
Top holdings for PTH include Regeneron Pharmaceuticals (REGN), Allergan (AGN), Cigna (CI), Incyte (INCY), and Medivation (MDVN).
Looking at the above graph, we can see that PTH's top five stocks have a comparatively high number of buy ratings from various top analysts. Recently, they have individually corrected in the market.
Article continues below advertisement
Performance of top holdings
As of September 7, 2015, the one-year total return for Regeneron Pharmaceuticals is 43.64%. Regeneron Pharmaceuticals stock dropped 6.35% over the seven-day period ending September 7. Its 2Q15 net earnings are $165 million, which is 67% higher than 2Q14.
Allergan was recently acquired by Actavis. Its annual return is 26.08%. Like Regeneron Pharmaceuticals, Allergan dropped over the seven-day period ended September 7, shedding 4.63%. Allegan's 14-day RSI (Relative Strength Index), an index of relative strength based on momentum, was 39 as of September 7, 2015. Companies with an RSI greater than 30 are generally considered to have high momentum.
At $644 million, Cigna's 2Q15 earnings are up 23% from 2Q14. The annual return of Cigna this year is 45.17%, higher than most of its peers.