Introducing Philip Morris International
Incorporated in Virginia in 1987, Philip Morris is a leading tobacco company whose revenue in 2014 was ~$80 billion—$29.8 billion after excise taxes.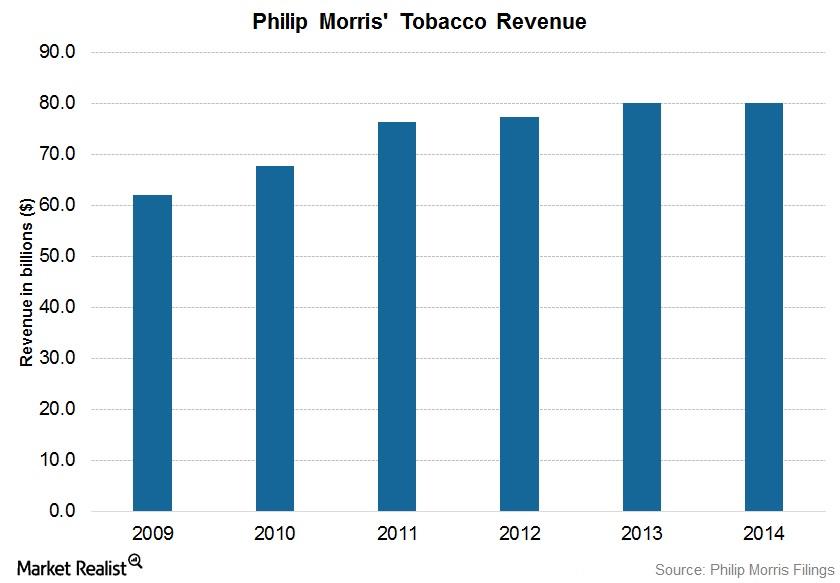 Brief history
Philip Morris International (PM) is a leading US-based tobacco company that was incorporated in Virginia in 1987. The company is engaged in the manufacture and sale of cigarettes, tobacco products, and nicotine-containing products in markets both inside and outside the US through its subsidiaries, affiliates, and their licensees. Philip Morris was a wholly owned subsidiary of the Altria Group (MO) until the parent company distributed all its shares on March 28, 2008.
Article continues below advertisement
Article continues below advertisement
Market value
Philip Morris's revenue at the end of 2014 came in at $80.1 billion, but after $50.3 billion in excise taxes were deducted, net revenue for that year stood at $29.8 billion. According to a Financial Times report cited in Statista, out of 100 companies ranked by market value in 2015, Philip Morris was the 60th largest, with a market value of $11.6 billion.
Philip Morris's product portfolio consists of leading premium brands like Marlboro, Merit, and Virginia Slims, as well as big international brands like Bond Street, Chesterfield, Next, and L&M. The company sells its products in more than 180 markets outside the US. In many of these markets it holds either the number one or the number two market share position.
Market peers
In 2014, Philip Morris held an estimated 15.6% of the total international cigarette market share—excluding China Philip Morris's total cigarette market share, which was estimated at ~28.6%. Philip Morris has a market cap of $132.4 billion, the highest among peers like British American Tobacco (BTI) and Reynolds American (RAI), who have market caps of $109.7 billion and $61.6 billion, respectively. Vector Group (VGR) has the lowest market cap, at $2.9 billion.
Philip Morris and Reynolds American have exposure in the Consumer Staples Select Sector SPDR ETF (XLP), with 7.2% and 2.2%, respectively, of the portfolio's total weight as of August 13, 2015.